Vitals is getting set to present a seminar entitled 'Heart for Caring' on February 12 at the Devonshire Seventh Day Adventist Church Hall on Roberts Avenue, featuring presentations aimed at providing "valuable information to aid you in better balancing every area of your life."
The event will be held from 6.00pm through 9.00pm, and presenters will include Beverly Howell, RN,MSN, Bermuda; Diane Goodman, APRN,BC MSN-C CORN CNRN, USA; Sharon Buckley, RN BSN, Cayman Islands; and Dr. Caren Griffith-Fadlin, MD, Bermuda.
A Pre-Valentine's Ball will also be held on February 13 at the Coco Reef Resort in Paget from 6.30pm through 11.00pm, offering an "evening of great food, good company, relaxing music and valuable information at an awesome price."
A spokesperson said, "Vitals was launched last May and dedicated in memory of a nurse with a true "Heart for Caring" Nurse Margaret Seymour."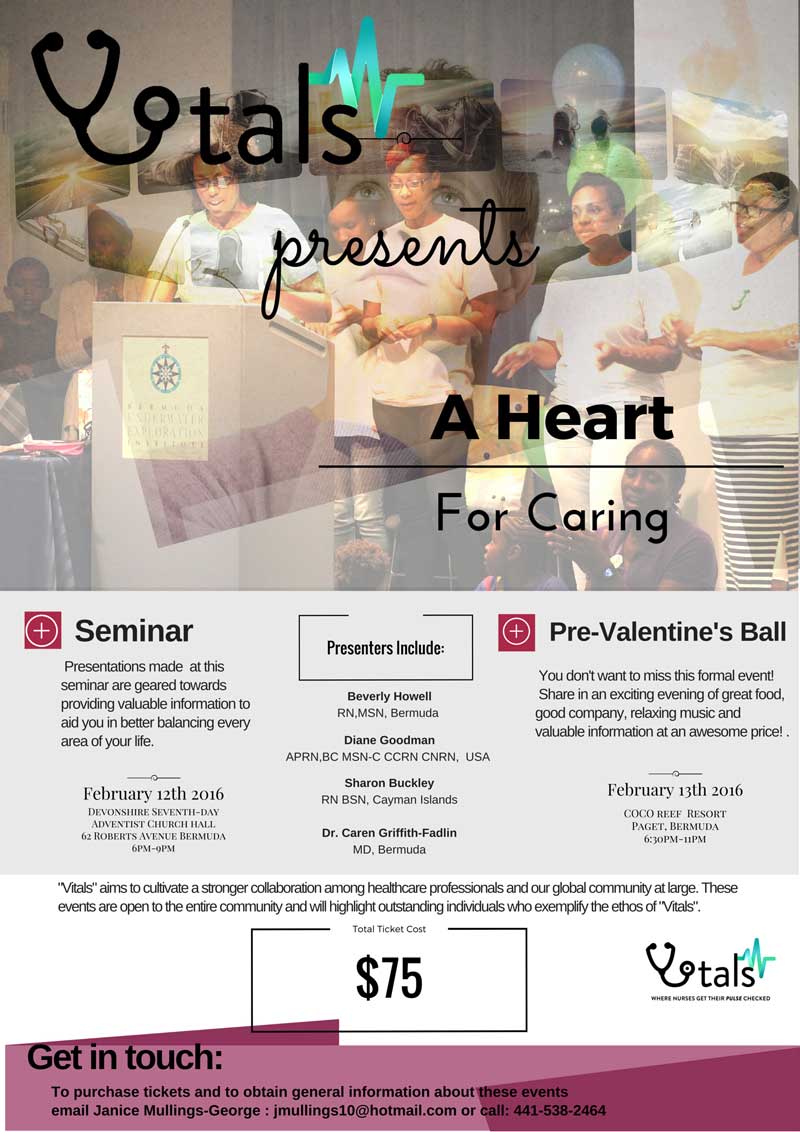 "The community at large are welcome to attend; it is a community effort and all are welcome. February is heart month and we have chose to look at the emotional side of the heart.
"Topics discussed will include ways to cope with stress and tension; having a healthy, happy heart; rekindling a heart for caring; and a first hand account from the heart of a patient called 'Hello Cancer,' by Giovanna Watson, a Bermudian cancer survivor.
"Vitals aims to cultivate a stronger collaboration among healthcare professionals and our global community at large. These events are open to the entire community and will highlight outstanding individuals who exemplify the ethos of Vitals."
Tickets, which include admission to both events, cost $75 each. For more information, or to purchase tickets, email Janice Mullings-George at jmullings10@hotmail.com or call 538-2464.

Read More About
Category: All