The U.S. Consulate and the U.S. Embassy in London have selected Kelly Madeiros to attend an International Visitor Leadership Program [IVLP] in the United States on the topic of disability rights.
Mrs. Madeiros is the Coordinator of the Department of Court Services. She was instrumental in developing and implementing the Mental Health Treatment Court Pilot Program.
The IVLP is the Department of State's flagship exchange program, which celebrated its 75th anniversary last year.
Mrs. Madeiros' three-week exchange, "Access for All: Enhancing the Lives of People with Disabilities," will take place March 28 – April 15, 2016, with the group of participants convening in Washington D.C. and then traveling to three or four states.
Consul General Mary Ellen Koenig and Mrs. Kelly Madeiros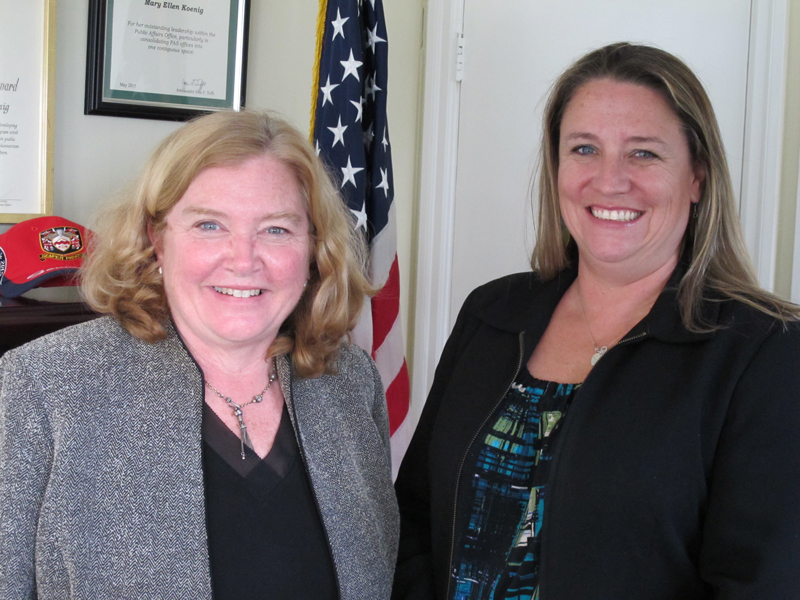 The program provides participants an opportunity to meet with their professional peers across the United States, as well as travel with professionals working to improve the lives of disabled people around the world.
The IVLP group will meet with state and municipal officials responsible for implementing programs aimed at access for the disabled, NGO workers who advocate for disability rights, community service providers who work in the field, and many others.
Mrs. Madeiros will be part of a group of twenty professionals, including individuals from Burma, Egypt, Ghana, Hungary, Latvia, Moldova, Oman, Pakistan, Palestinian Territories, China, Philippines, Korea, Russia, Tajikistan, Tanzania and Uganda.
Consul General Mary Ellen Koenig described Mrs. Madeiros as the perfect candidate for the IVLP program saying, "Kelly is a staunch advocate for human rights, especially those with cognitive, intellectual or mental disabilities.
"This program will allow her to share what Bermuda is doing in the area of disability rights, as well as learn about the challenges and successes of other countries in this field, including the United States.
"We are hopeful that the connections that Kelly makes and the experiences that she has will serve her and Bermuda well over the long term."
Read More About
Category: All