The Ministry of Economic Development is getting set to hold a TechTalk installment on information security on February 25.
The panel discussion, titled 'Information Security: Public access on one hand and privacy and data protection on the other,' will be held at 6.00pm at the Royal Hamilton Dinghy Club, with a reception at 5.30pm.
The panel will consists of Gitanjali Gutierrez, Information Commissioner, ICO Bermuda; Kerr Kennedy, Senior Manager, Advisory & Risk, EY; Nancy Volesky, Director, Privacy and Data Protection Project; and William Francis, Permanent Secretary, Ministry of Economic, and will be moderated by Sheridan Smith, Director, Management Services/Information Technology, Bermuda Monetary Authority.
Attendance is free, with one CPE credit available to attendees. Food will be provided at the event, with a cash bar available and prizes to be won.
The event poster says, "There has been considerable international, and local, activity in the law with regards to public access to information and the satisfaction of data privacy compliance requirements."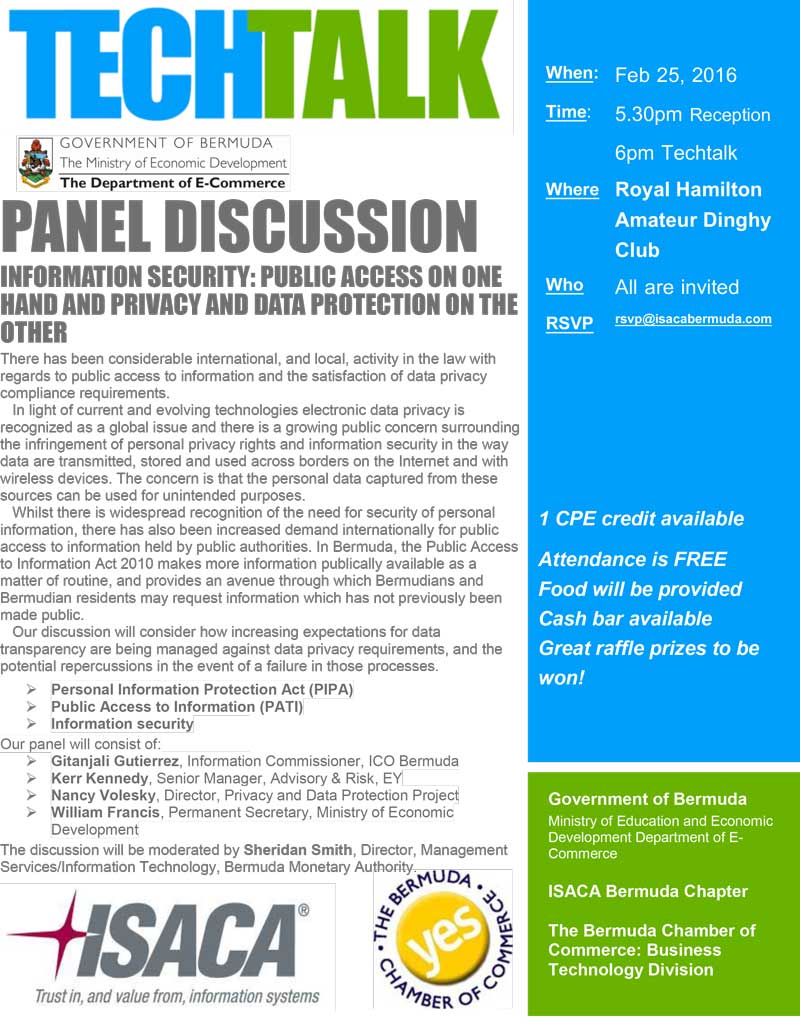 "In light of current and evolving technologies electronic data privacy is recognized as a global issue and there is a growing public concern surrounding the infringement of personal privacy rights and information security in the way data are transmitted, stored and used across borders on the Internet and with wireless devices.
"The concern is that the personal data captured from these sources can be used for unintended purposes.
"Whilst there is widespread recognition of the need for security of personal information, there has also been increased demand internationally for public access to information held by public authorities.
"In Bermuda, the Public Access to Information Act 2010 makes more information publically available as a matter of routine, and provides an avenue through which Bermudians and Bermudian residents may request information which has not previously been made public.
"Our discussion will consider how increasing expectations for data transparency are being managed against data privacy requirements, and the potential repercussions in the event of a failure in those processes."
To RSVP for the event, email rsvp@isacabermuda.com.

Read More About
Category: All, technology