An upcoming nine-day sailing trip will provide aspiring sailors the opportunity to earn their ITY International Crew Certificate as they sail from Bermuda to Maine, while an additional 11-day trip will offer a "Bermuda Triangle Environmental Research Adventure."
The Bermuda to Maine trip will take place from May 30 to June 7, departing from St. George's and arriving in Portland, Maine, offering "adventure sailing from the beautiful pink sand beaches of Bermuda to the world famous lobster of Maine."
The research trip will take place from April 24 to May 4, departing from St. Thomas, US Virgin Islands, and arriving in Hamilton.
Regarding the Bermuda to Maine trip, a spokesperson said, "This incredible nine day adventure is perfect for aspiring sailors. The focus of this journey is training and you'll get plenty of it – whether you're looking to expand your sailing knowledge or you're a beginner searching for just the right time and place to get your sea legs.
"Sailing from Bermuda you begin with lovely pink sand beaches and end in Portland with Maine's famous red lobster 750 nautical miles later.
"Earn your ITY International Crew Certificate, snorkel in some of Bermuda's stunning reefs, and gaze at the stars while on deck and then let the ocean lull you to sleep each night.
"Sailing from Bermuda your route will explore the tropical reefs in the northern part of Bermuda's coast and then set sail up the Gulf Stream as you cross the mysterious Sargasso Sea.
"It's 750 miles that will take you through two completely different ecosystems and climates. The journey ends when you reach the breathtaking rocky coast of Portland.
"Each day there will be sail training both in the onboard classroom and hands on sessions aimed at giving you the fundamentals of passage making and sailing. Your professional crew take great care in onboard safety as well as onboard fun. If you're brand new to sailing and therefore nervous, put your fears to rest because you'll be in excellent hands.
"When it's time to disembark you'll have earned your ITY International Crew Certificate."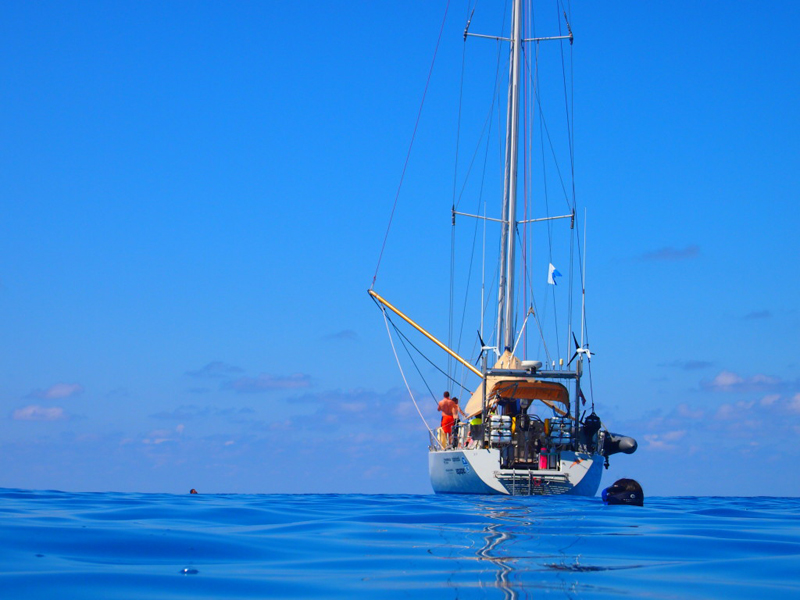 "The reason we love working with this operator is because of their singular mission: to strengthen the health of our planets marine life through education, conservation, and exploration. Joining the crew for this voyage allows you to be a part of this mission and educate yourself on a problem that affects us all."
Regarding the 'Bermuda Triangle Environmental Research Adventure,' the spokesperson said, "For those who love to combine a challenge with making a difference, this epic Atlantic Ocean sailing adventure is a perfect pick.
"This journey takes you out on the wild open ocean on an environmental research adventure sailing from St Thomas in the US Virgin Islands to Hamilton, Bermuda.
"The focus is on plastic pollution and you'll join a team of fellow comfort zone escapees as you set sail to research and learn.
"Highlights include a digital detox, the chance to gain your International Yacht Training certificate, and being a part of research aimed at restoring healthy marine life to our planet.
"For this 11 day sailing and research adventure on an ex-racing yacht, no previous experience is necessary. Your professional crew will teach you about safety, weather, currents, and more and at the end of the trip you'll have a chance to test what you've learnt by taking an International Yacht Training certificate.
"Challenging conditions are likely as you are sailing through the infamous Bermuda Triangle, but being miles from land and your daily life has other benefits. Without mobile phone or easy internet access it's essentially a 'digital detox' at sea!
This sailing operator works to find practical solutions and resources to combat the threat that our oceans are facing. They aim to actively strengthen healthy marine life through exploration, conservation, and education. Inspiring a new generation of leaders to do the hard work of conservation science and policy leadership is one of their greatest accomplishments.
"You'll be involved in all aspects of the voyage's research goals. Professionals and visiting crew work as one to support the overall mission. You'll have an extraordinary chance to step to the front line of marine conservation, build research and sailing skills, and have a pretty spectacular adventure at the same time."
For more information and booking enquiries, contact Another World Adventures on +44[0]207 097 1734 or visit their website.

Read More About
Category: All