The Peace and Social Justice Committee of the Roman Catholic Church of Bermuda is hosting its second in the series of 'Ageing in Bermuda' forums on Friday, March 11th at 7:30pm at St. Theresa's Church Hall on Laffan Street.
This second forum entitled Ageing and Health commands a five person panel of presenters speaking on the topic of healthcare in Bermuda, its impact and possible solutions for the healthcare system and our imperative on ageing and health overall, in our Bermuda community.
The presenters for this upcoming forum are Ms. Claudette Fleming – Director of Age Concern, Ms. Melanie Dupres -Alternative Healthcare Practitioner, Dr. Matthew Arnold- Physician, The Hon. Gerald Simons – former CEO of Argus and Ms. Tawanna Wedderburn – CEO of the Bermuda Health Council.
"They come with a wealth of complementary experience and expertise sufficient to 'crack some eggs' over the current dilemma of our healthcare system in Bermuda and provide thoughtful and provocative insight for how we can positively move forward," a spokesperson said.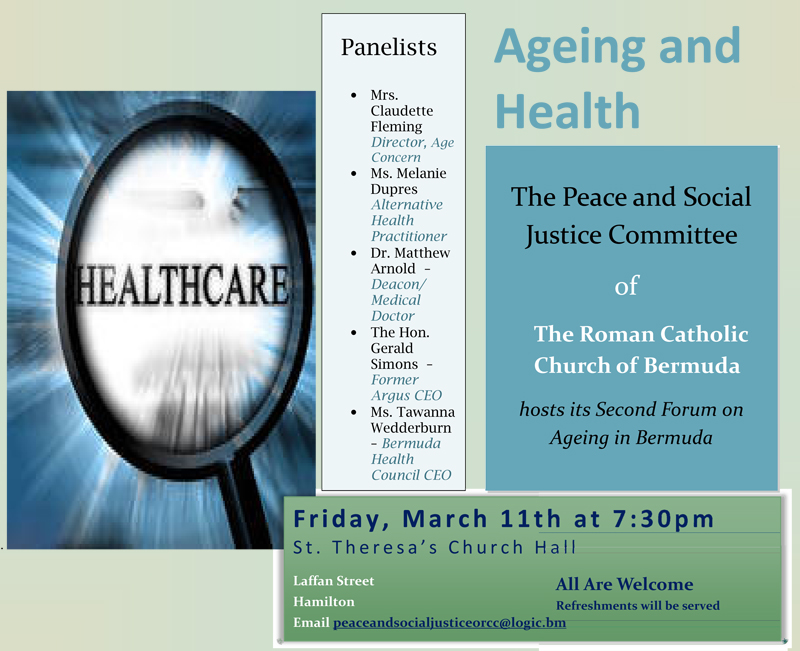 "The Peace and Social Justice Committee's first forum in the series was on Ageing and Employment. It was well attended by a wide cross section of interested Bermudians. Persons who attended that forum called it "inspiring", "thought provoking", "the best discussion on Ageing in Bermuda yet"!
"The next forums in the series are as follows: Ageing and Legal Issues – April 8th, Ageing and Rest Homes/Eldercare – May 20th and Ageing and End of Life – June 17th. All are welcome to attend these events."

Read More About
Category: All