Planning for Bermuda Fashion Festival is well underway and this year promises to be a more "elaborate and elegant" week of fashion than ever before, with a range of international and local designers and models to be on hand.
International designers who will show their couture and ready-to-wear collections include Thomas LaVone, Katerina Lankova, Bermuda's own Dana Cooper, Monif C. Plus Size, Soka, and Evelyn Lambert.
A spokesperson said, "A selection of high quality international models will reflect a diversity of culture and style, and will be joined by Bermuda's top 120 local models walking the runway in the week-long fashion extravaganza. Of the 250 people who auditioned in Model Call this month and at various school auditions, the 120 successful candidates will begin rehearsal in May."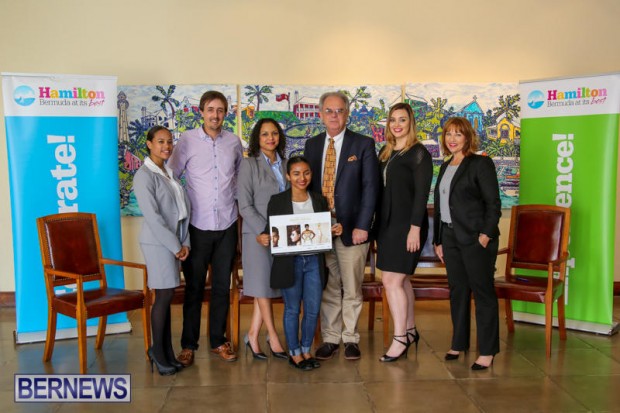 "Evolution, the largest retail fashion show of the year, will see 20 retailers featured on the runway and this year it will be held earlier in the day and will be the first show of the week."
Bermuda Fashion Festival Executive Producer and City of Hamilton Events Project Manager Danilee Trott said, "This year we selected many new local models and we were pleased to see the quality of auditions at Model Call. A greater cross-section of the community is represented on the runway, showing how this event really is for everyone who lives in Bermuda. Our models vary in age, size and ethnic background."
"Bermuda's premier fashion week is July 10 to July 16, and is shaping up to be more of an international event than ever before, with the involvement of highly recognizable global brands and designers. The names of international celebrities participating in Bermuda Fashion Festival will be revealed in coming weeks."
Local designers will include Adam Petty and Sam Outerbridge [Coral Coast Clothing]; Michaela Lewis [M. Lewis]; James Lee [XoeTiqu]; Jakai Franks [JRU]; Brittany Wolffe [Love Bomb]; Juliana Gibbons [Juliana Gibbons]; and Madeline White [NOVAH Swimwear].
Mentors for the local designers include Amelia Diamond [Man Repeller]; Kathryn Typaldos [Roc Nation]; Danielle Prescod [Obsessee]; Matthew Henson [Complex]; Kenya Hunt [Elle UK]; Julia Gall [Interview]; and Nicole Chapoteau [Allure].
The Bermuda Fashion Festival is supported by Coach, L'Oreal, Maybelline, Clarien Bank, JetBlue, Elbow Beach Hotel, Grotto Bay Beach Resort, CellOne, Bermuda Broadcasting Company, Great Sound Audio Visual and iHope Global.
For more information about Bermuda Fashion Festival 2016, visit the website; tickets are now available at www.ptix.bm/bff.
The full schedule follows below [PDF here]:
The event overview follows below [PDF here]:

Read More About
Category: All, Entertainment, News, Style & Beauty, Videos