Digicel today announced the extension of its partnership with squash player Micah Franklin, who they have sponsored since 2011.
Following on from his success at the Digicel Bermuda National Squash Championships, where he won the Men's Final, the 23 year old Bermudian international put pen to paper on a new extension with the telecommunications provider.
Last year Mr Franklin represented Bermuda at the Caribbean Championships, where he finished 5th, as well as competing in Premier League Squash in the UK.
Micah Franklin and CEO of Digicel & BTC Robin Seale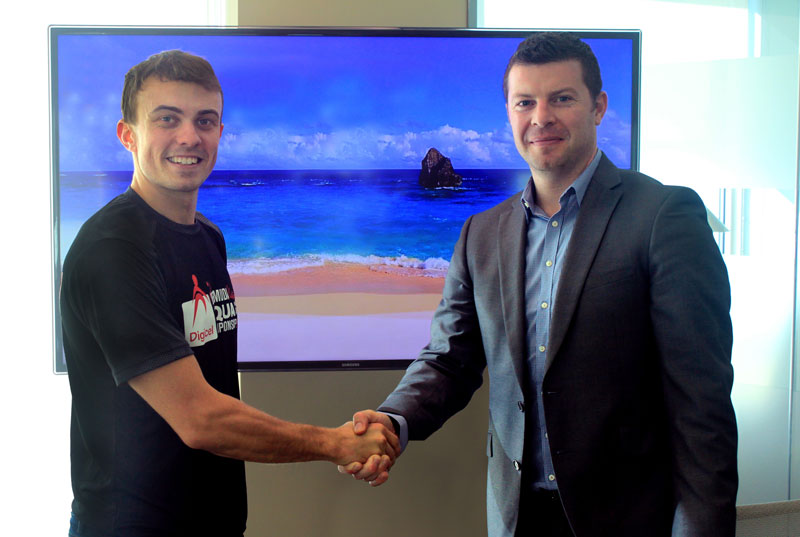 "The financial backing from Digicel has allowed me to play abroad as well as the opportunity to work with one of the top squash coaches in the UK," explained Franklin. "
They supported my squash career from an early age which has provided me with opportunities to advance my game. I am pleased with my progress over the last 12 months and will continue to train hard to climb the world rankings."
"We are committed to supporting young Bermudian talent in their quest to be the best in their chosen sport," said Robin Seale, CEO of Digicel Bermuda and BTC. "Micah's attitude and dedication is reflective of so many other young sports men and woman across the island and it's because of this we're delighted to continue our partnership with him."
Other sporting ambassadors for Digicel Bermuda include two-time Olympic swimmer Roy-Allan Burch, cyclist Dominique Mayho and youth triathlete Tyler Smith.

Read More About