The Royal Bermuda Regiment's [RBR] Band and Corps of Drums yesterday tuned up with their Jamaican counterparts. 
A total of 24 musicians from the RBR joined forces with the Jamaica Military Band at the Jamaican Defence Force's [JDF] headquarters at Up Park Camp in Kingston in preparation for a series of public concerts.
And both bands said they were enjoying harmonising their different musical styles.
RBR Private Adrien Lewis, who plays the piccolo, said, "I love it – it's pretty great. I love playing with the JDF band. It brings a different character to what we normally play."
 Regiment and JDF musicians line up at Up Park Camp in Kingston, Jamaica, after a day of practice.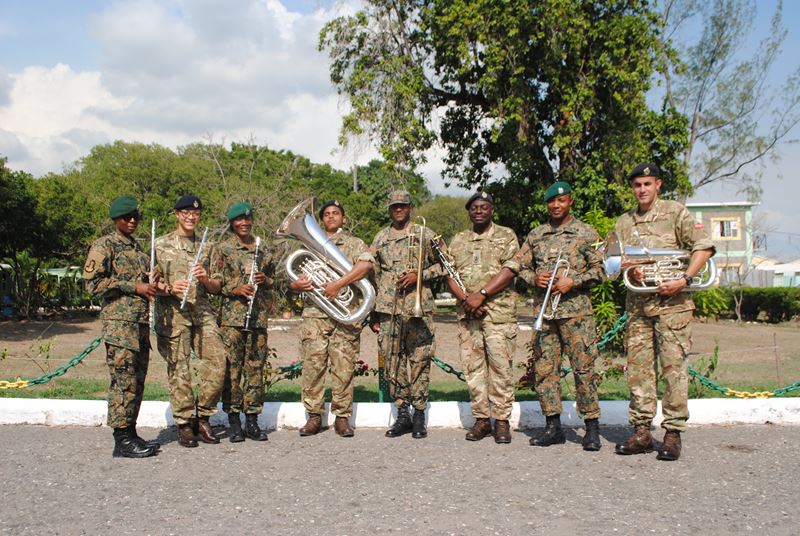 The 21-year-old from St George's, who works at a gym and at Port Royal Golf Course, added, "They have more of a swing and when we couple that with the type of music we play, it makes a really interesting, vibrant sound."
JDF Pte Kadian Richards, a full time flute player, said, "It's kind of refreshing because it's my first experience at playing in a massed band with one from another country.
"It's a great experience and the Bermuda flute players are very warm, welcoming and easy to work with."
The RBR band and their Jamaican counterparts will play a concert on Sunday at historic Devon House in Kingston, followed by performances in Portland and Montego Bay next week.
But the troops, who secure and guard Warwick Camp in times of civil unrest, will also spend time on the firing ranges to retain their weapons qualifications and do their annual fitness test.
 Regiment and JDF trumpeters work together before performing in public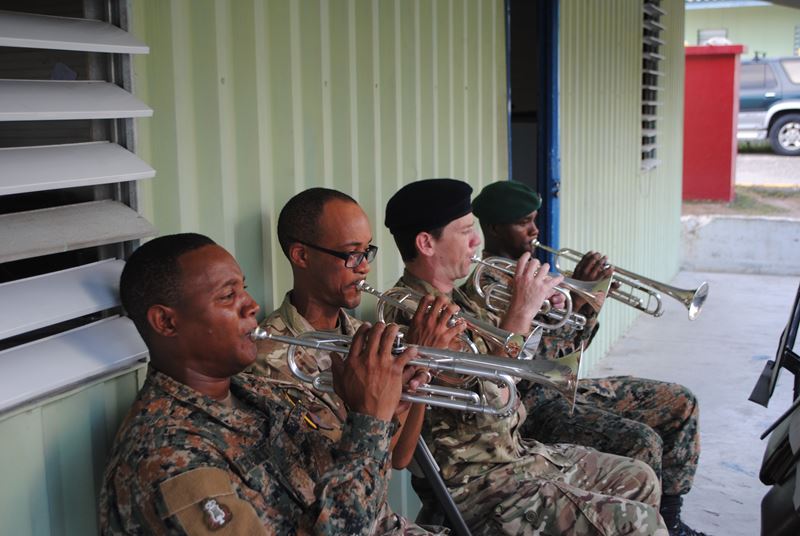 RBR alto saxophone player Donovan Chin, 19, said, "I'm really looking forward to performing in Jamaica."
The airport security worker from St David's added, "This is my first time in Jamaica and everything's cool – except the temperature. It's just hot."
RBR Director of Music Major Dwight Robinson said the annual camp was a chance to combine intensive musical training and keep the soldiers up to date on their weapons and fitness.
He added, "It also gives us a chance to work together with fewer interruptions than we would have at home.
"The Regiment has a very good relationship with the JDF and the band has worked with the JDF bands on a huge number of occasions."
Maj. Robinson added, "It also provides us an opportunity for us to fly the Bermuda flag at our perfomances."

Read More About
Category: All, Entertainment