[Updated with video] "Our vision for 2016 is to create a road safety movement by implementing cross generational strategies," newly appointed Bermuda Road Safety Council [BRSC] chairperson Erica Rance Mill said today.
Speaking at a press conference today, Mrs. Rance Mill said, "I sit before you as the recently appointed Chairman of the BRSC. These are the individuals who are dedicated to promoting, implementing and recommending strategies that will make our roads safer.
"The members that serve on the council ex officio represent the key departments/stakeholders within the government sector, and bring to the table knowledge and experience in all areas pertaining to road use.
"The appointed members also have a broad area of expertise that blend well together. The energy of this group is very refreshing."
Standing [left to right] Mr. Wayne Swan, BRSC member; Mr. Dennis Lister Jr., BRSC member; Sgt. Raymond Masters, Bermuda Fire Service, ex-officio; Mr. Dwayne Caines, Bermuda Police Service – Media, ex-officio; Mr. David Minors, Road Safety Officer, ex-officio,;Superintendent James Howard, Bermuda Police Service, ex-officio; Mr. Patrick Cooper, Corporation of Hamilton, ex-officio; Mr. Roger Kendall, BRSC member. Seated [left to right] Mrs. Carolina Drew, Public Works, ex-officio; Mrs. Erica Rance Mill, Chairperson; and Ms. Nekeisha Cameron, BRSC member.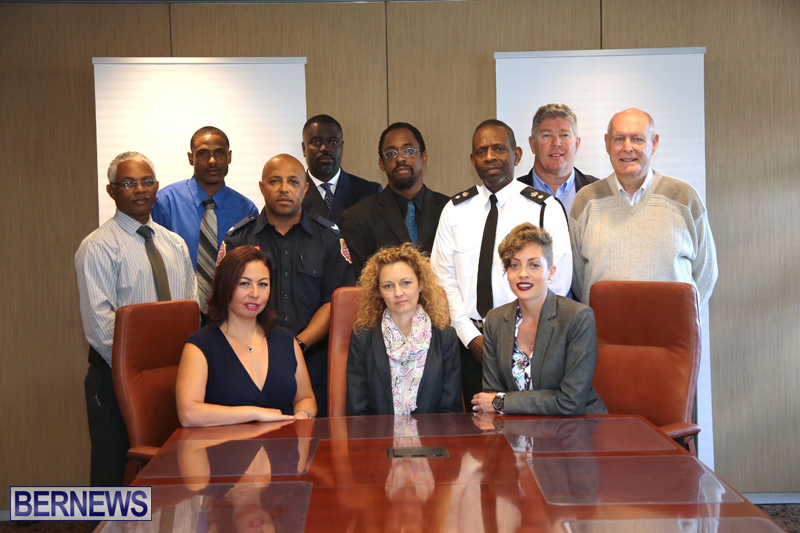 "The mandate of our Council is to promote road safety, make recommendations to the Minister for legislative changes, and to decrease morbidity on the roads. Our vision for 2016 is to create a road safety movement by implementing cross generational strategies.
"We will work in partnership with organizations like CADA and the Bermuda Police Service and we will support the efforts of the BPS Road Safety Strategy.
"One of our goals is to focus more effort on reaching the youth. They are the riders and drivers of tomorrow, and it is never too early to get them thinking about Road Safety. We are in the process of setting up our Junior Road Safety Council so that we can receive feedback directly from the youth.
"The members of the Jr Bermuda Road Safety Council will act as mentors to their peers and younger students. It is important that the youth feel a part of solutions. Our Road Safety Officer will also continue his visits and discussions in the schools, ensuring that safe road use remains in the forefront of their minds.
"For those older members of the community who may already be on the road we will continue to send messages reminding them of good driving/riding habits.
"Our slogan Think Choose Live reminds us that road safety is everyone's responsibility. We must all think about our driving habits and make the best choices so that our lives are not permanently impacted as a result of poor choices.
"Our messages will not only be directed to riders and drivers, but also to walkers, runners, and cyclists," continued Mrs. Rance Mill.
"For 2016 we will not have a Road Safety Week, but instead we will focus our efforts around the high traffic calendar dates of 24th of May, Heroes Weekend, Cup Match and Christmas.
"As our budget has been reduced we have implemented a marketing subcommittee who will be tasked with gaining financial sponsorship from our community partners, and creating our campaigns in a creative way to ensure maximum impact with minimal cost.
"Drink driving seems to be socially acceptable in Bermuda. We will be working with organizations like CADA to throw our support behind all Drink Driving Awareness campaigns.
"There is no question that driving while impaired is one of the biggest contributors to collisions on our roads. We will be actively involved in doing our part to see road side sobriety testing become a reality in 2016.
"Finally we will be looking at frequent collision locations to identify measures that can assist with reducing the frequency of collisions where possible.
"Already this year we have tragically lost 4 lives as a result of road traffic collisions, and we have seen the results of many more serious road traffic collisions in the media. Any life lost is one too many, and our thoughts are with those whose lives have been affected.
"In closing I would ask that each one of us become more responsible road users. Consciously consider road safety each time we put on our running shoes, hop on our cycles, or place a key in an ignition. Speak with our loved ones as often as possible about it. Accidents and collisions are almost always preventable."
Read More About
Category: Accidents and fires, All, News, Videos