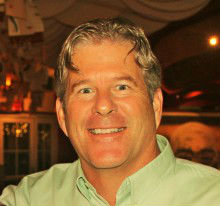 Previously classified information will be published for the first time in Jonathan Smith's latest book, which is set to be released in late 2017, with the book to explore policing in Bermuda from the 1970′s to the current day.
New information will be revealed about the Bermuda Housing Corporation investigation, attempts at political interference during his Police career, several horrific murders and rapes, early DNA cases including a first case involving the use of a suspect's head hair in a sexual assault case.
International fraud investigations will feature in the book as well as Mr Smith's role as the first Bermudian executive member of the Association of Caribbean Commissioners of Police and his personal plea to the FBI's Director Robert Mueller to expand, not curtail, the FBI's support to the Caribbean islands.
Also to feature prominently in the book will be the Island's first ever operational security response to a global terrorist event [9/11] and the trauma endured by the Service when, for the first time, it suffered multiple loss of life in a single event – Hurricane Fabian in 2003.
New facts will emerge about the Rebecca Middleton investigation and how the investigation and decision to prosecute were botched.
Former Commissioner Smith will also offer personal perspectives on Police corruption, the presence of sex offenders among the Police ranks, the completion of the Service's first ever operational community policing strategy and how the Service successfully lobbied for and attained five consecutive budget and manpower increases as it modernised and expanded when the demand for services increased.
New information will be revealed about the Colin Coxall affair, and the vital importance of relationships with the Drug Enforcement Administration and London's Metropolitan Police.
Mr Smith added that previously classified information will be published for the first time and a critical analysis of how policing strategy and methods evolved from the 1970's to today, with the book — "Black & Blue" — expected to be published locally and overseas in late 2017.
This will be Mr. Smith's third major book. His first, 'In the Hour of Victory,' [2011] achieved international success and recognition as the film version won major awards at two international film festivals in the USA and UK in 2013.
His second book, 'Island Flames,' [2015] was Bermuda's top selling book for the year and remains, to this day, the top selling book so far in 2016.

Read More About