Following their recent fun fair and raffle, the Pembroke Rotary Club was able to donate over $80,000 to Bermuda's public primary schools.
This year on 12th March, the Pembroke Rotary Club hosted their annual Children's Fun Fair and Raffle last month at the St. Paul's Church Hall in Paget. At the Fair, children enjoyed the fun castle, train rides, a wide variety of interactive games as well as booths where baked goods and freshly prepared food could be purchased.
Pembroke Rotary Club Members, along with volunteers from a number of primary schools, worked on the day of the Fair, but most of the fund raising was done before the event by way of raffle sales.
From left to right are: Pauline Cameron [Prospect], Wendy Tulley [Francis Patton], Vanessa Steede [Elliot], Charles Joynes [Northlands], Christine Place [Gilbert], Chrystal Bean [Paget Primary], Tajuana Dean [Dalton E. Tucker], Chris Williams [Pembroke Rotary], Marion Weller [West Pembroke], Melva Paynter [Elliot], Charlaine Woods [West End], Theresa Sinclair [Victor Scott], and Wendy Wilson [St. David's].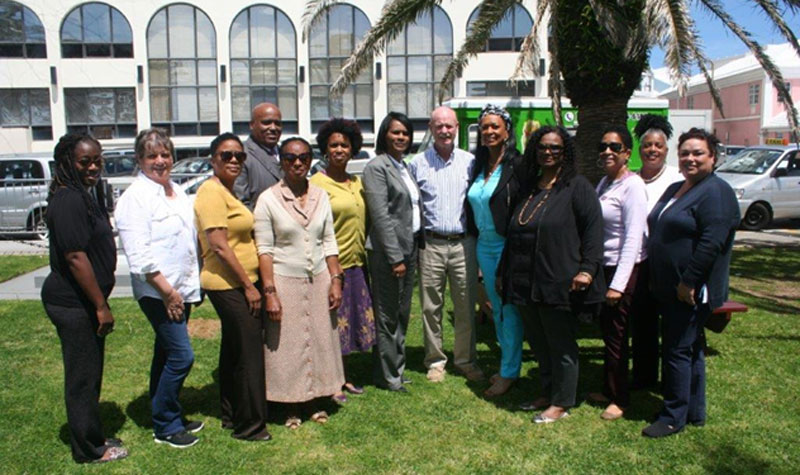 There are 11 public primary schools which benefit from raffle sales with each school selling as many raffles as possible, as the more they sell, the more they get back as a donation.
On Tuesday, 19th April, 2016, the President of the Pembroke Rotary Club Chris Williams, met with representatives from the participating schools to thank them for their hard work on the day of the Fair and by selling raffles. Funds from the sale of raffle tickets have been distributed to each school, proportional to the number of tickets sold.
Participating schools included: West Pembroke, Elliot, Paget Primary, Gilbert Institute, Victor Scott, Northlands, St. David's Primary, Francis Patton, Dalton E. Tucker, West End Primary, and Prospect Primary.
In total, the Pembroke Rotary Club was able to donate $83,150 to Bermuda's public primary schools.
More information on the Rotary Clubs of Bermuda can be found at rotary.bm.
Read More About