More than 70 runners yesterday [May 15] turned out for Royal Bermuda Regiment charity run around St George's.
Adult runners joined younger ones as well as walkers for the RBR Charity Breakfast Run, aimed at raising cash for cancer care charity PALS.
Sergeant Major James Self, co-director of the event, said: "It went really well – we changed the venue from Warwick Camp this year and we might possibly look at keeping it here in the future."
RBR CO Lt Col David Curley with son Sven, aged 10, after completing the RBR charity breakfast 5 km walk on Sunday.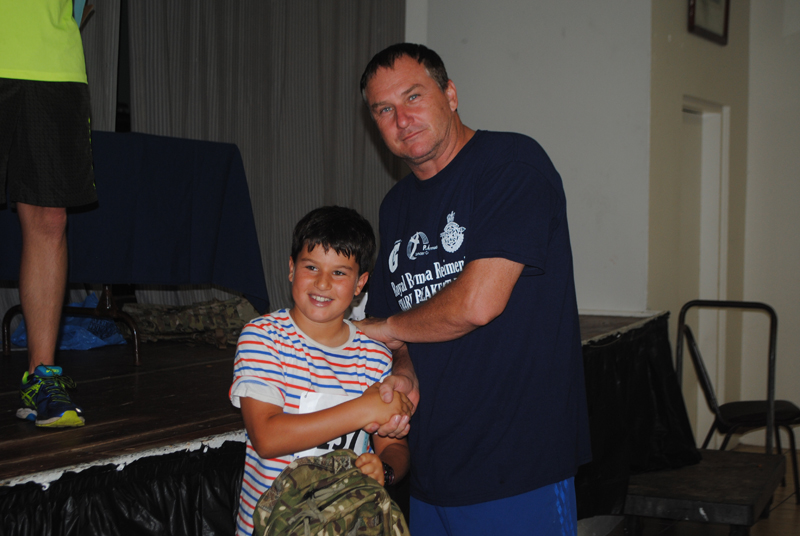 It was also the first time the event has been used to raise money for charity.
Sgt Maj. Self added: "It was a very good mix of people, we got a lot of runners, although maybe not as much in the children's category as we would have liked."
He thanked the event's main sponsors, food and drinks wholesaler Dunkley's Dairy and soft drinks maker Gatorade, as well as the RBR volunteers who provided marshals for the route, water stops and medics.
Myeisha Sharrieff, aged 10, the winner of the junior 3K run, gets her prize fro RBR CO Lt Col David Curley.
Sgt Maj. Self said: "We don't know how much money we have raised yet, but we hope it will be a substantial donation to PALS to assist them with the crucial work they do."
The RBR Charity Breakfast Run started at the Royal Artillery Association in Grenadier Lane, and included a 3k junior race, a 5k walk, and a 10k run with top prizes including two night stays at the Fairmont Southampton, champagne and RBR T-shirts.
Edwina Arorash, the winner in the 60 and over category in the 10K road race gets her medal and prize from RBR CO Lt Col David Curley.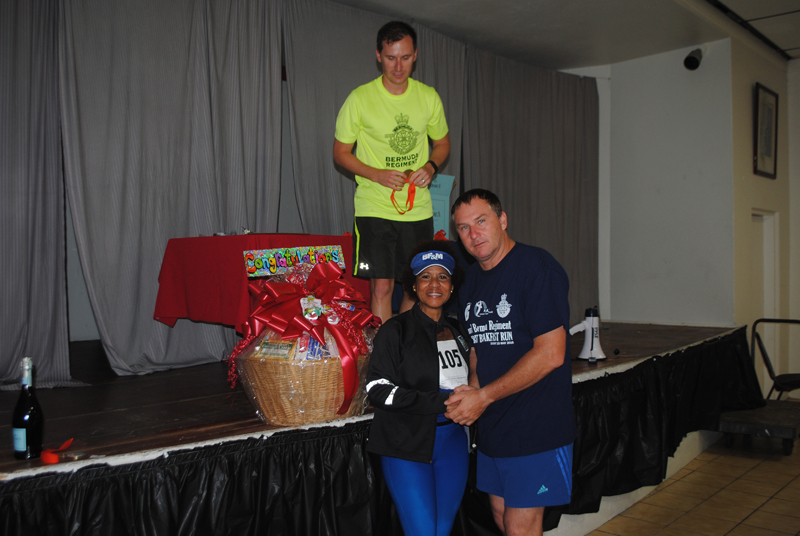 The event also featured a bouncy castle and other entertainment for children by Strictly Fun Bermuda, as well as sports company Extreme Sports Entertainment and Siam Thai Massage, while the RAA provided codfish breakfasts to competitors and spectators.
RBR Commanding Officer Lieutenant Colonel David Curley said: "Events like this underline the usefulness of the Regiment as a resource for the community. It also promotes health and fitness, a major part of our ethos at Warwick Camp."
Competitors cross the finish line at the Royal Artillery Association in St George's after the RBR's charity breakfast run and walk.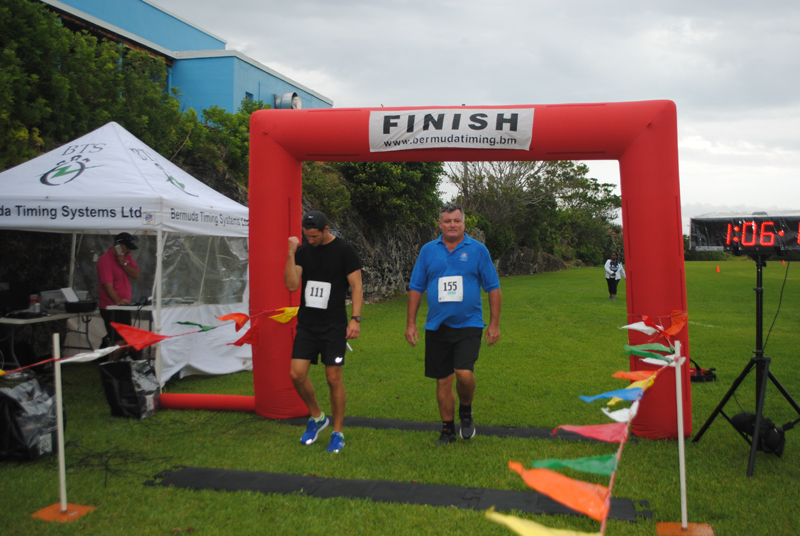 Col Curley, who took part in the 5K walk with son Sven, aged 10, added: "People really seemed to enjoy themselves and some of the runners said it was the toughest 10K they had done, so it's good training for next month's May 24th half marathon.
Read More About