The annual BFIS Bermuda Summer Intern programme started this week for six undergraduate students who will spend the next three weeks [May 23 – June 10] learning about the Bermuda insurance market from how to form an insurance company to work-shadowing underwriters, actuaries and brokers.
On Monday lunchtime they met with 2 former interns, Tyler Owen [2008] and Kris Furbert [2014] who gave them good advice on how to get the most out of the programme and how to prepare for their meetings.
Executive Director, Cathy Lapsley said, "BFIS has been running this programme since 2002 and we are very grateful to the companies and their employees who host the students each year and are so generous with their time and knowledge. We also thank Allied World Assurance who sponsor the Bermuda programme."
"For the students it is hard work and a steep learning curve as they may visit three companies a day for morning, lunch and afternoon sessions, and even dinner in some cases.
This year's programme includes: ABIR, AIG, Allianz Risk Transfer, Allied World, Amlin, Aon, Appleby, Argo Re, Ascot Re, AXIS, Bermuda Business Development Agency, Bermuda Stock Exchange, Bermuda Monetary Authority, Chubb, Colonial, Fidelis, Hamilton Group, Hannover Re, Hiscox, Ironshore, Marsh, Oil Casualty Insurance, Ltd, OIL Group, R&Q, Registrar of Companies, Renaissance Re , Sun Life, Tokio Millennium, Validus, Willis, XL Catlin and Zurich."
[Back row] Aaron Nelson, with former interns Tyler Owen and Kris Furbert; [Front and middle rows] Jane Bielby [BFIS], Katie Stevenson, Anna Harrington, Emily Tomaszewski, Megan Knight and Judy Cheng.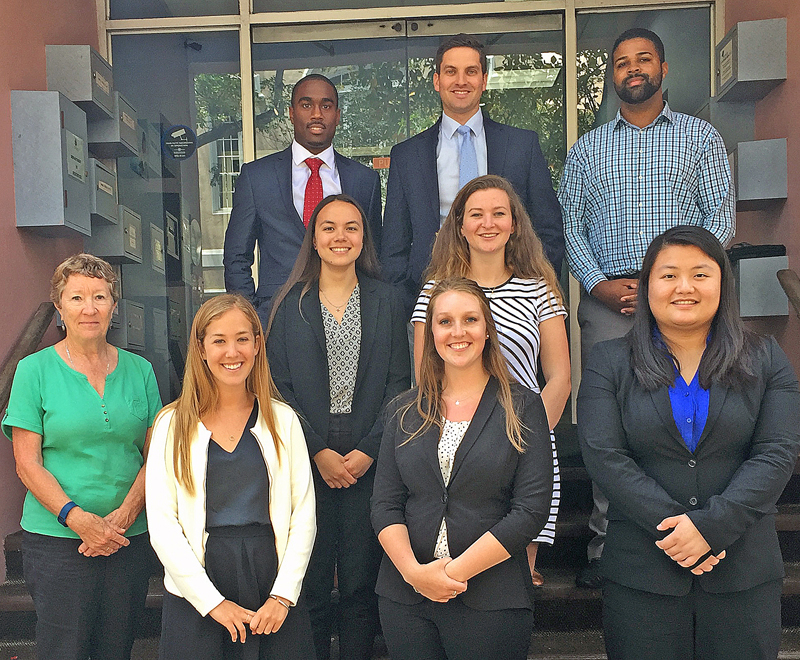 The 2016 Bermuda Interns team comprises Anna Harrington [Financial Economics / University of Western Ontario], Megan Knight [Mathematics / University of St. Andrews], Aaron Nelson [Business / University of Hertfordshire] and Katie Stevenson [Specialisation of Globalisation / University of Western Ontario] plus visiting students from the Katie School of Insurance and Financial Services at Illinois State University, Judy Cheng [Actuarial Science] and Emily Tomaszewski [Business Administration].
The BFIS Summer Intern Programmes are open to students focused on careers in the insurance sector who are usually in either their Junior or Senior year at university giving them the opportunity to learn about the insurance markets of either Bermuda, London, Chicago or Atlanta. Including this year's interns, the total number of students who have taken part is 129, and 99% of those who have since graduated from college are now working in the insurance sector.
On July 21st the team will make a presentation to the BFIS Board and hosting company representatives on what they gained from the programme. Students interested in participating in 2017 are welcome to attend and can contact the BFIS office at info@bfis.bm.
Read More About