Local technology company Fireminds Ltd. have introduced a Bermuda based data centre.
"Fireminds, a leading technology provider has launched Bermuda's newest and one of the most sophisticated data centres," the company said.
"The data centre, will allow for continued growth in delivering Cloud solutions, managed hosting, and colocation. The data center, which is located in the Waterfront Properties on Pitts Bay Road, will act as the core of Fireminds cloud solutions.
"As a Microsoft Gold Partner, with specialization in Azure Cloud and Office 365, Fireminds has offered customers cloud solutions via the Microsoft Azure Cloud platform for four years.
"As their client base has continued to grow in the insurance and finance industries, there is an increase in demand for on-island hosting solutions.
Fireminds staff in the data centre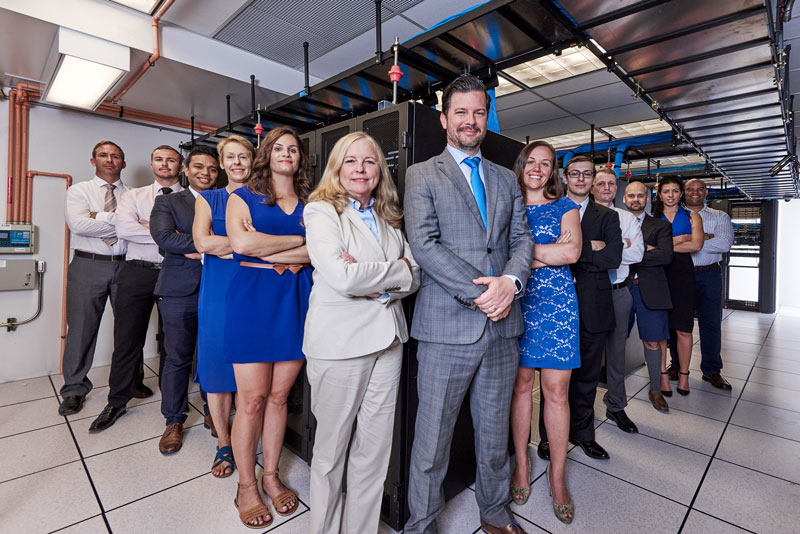 Michael Branco, Fireminds CEO stated, "Data residency continues to be a top priority with cloud and hosting solutions. As an offshore jurisdiction, many Bermuda based businesses want to ensure their data does not reside in North America.
"In the past we have accomplished this by working with Microsoft Azure, to utilize their data centres in Ireland, Netherlands and Singapore. In many of our recent projects, customers are looking to have their data hosted in Bermuda. To address this requirement, Fireminds determined the data center would be an ideal investment."
In addition, the Fireminds data center hosts its on-island Cloud PBX which provides a high availability Voice over IP cluster allowing customers to replace their phone systems with a cost effective modern set of system.
Fireminds Chief Technology Officer, Yevgeniy Gerassimov commented on the functionality of the data centre, "The Fireminds data centre functions as a hybrid cloud. While the data centre has been built and functions in Bermuda, we have ensured that it is still linked to the Microsoft Azure cloud as a seamless integration.
"We accomplished this by working with Microsoft to implement Azure compliant nodes. This functionality is extremely beneficial as in the event that there is a Bermuda service interruption, the hosted data fails to an offshore Azure data center."
The centre also features several resiliency features including fault redundant power, generator, battery backup, multiple air cooling, and multiple telecom access providers.

Read More About
Category: All, Business, News, technology