The Royal Bermuda Regiment will this weekend host a charity 10k run around historic St George's.
And – for the first time – the event will be used to raise funds for good causes, with cancer care charity PALS the first beneficiary.
RBR orderly room clerk Corporal Chris Matvey, joint race director with Sergeant Major James Self, said the annual event had been moved to scenic St George's instead of starting and finishing at Warwick Camp.
He added: "It's also the last official race before the May 24th half marathon, so it's a good opportunity for people to get the miles in before the big race."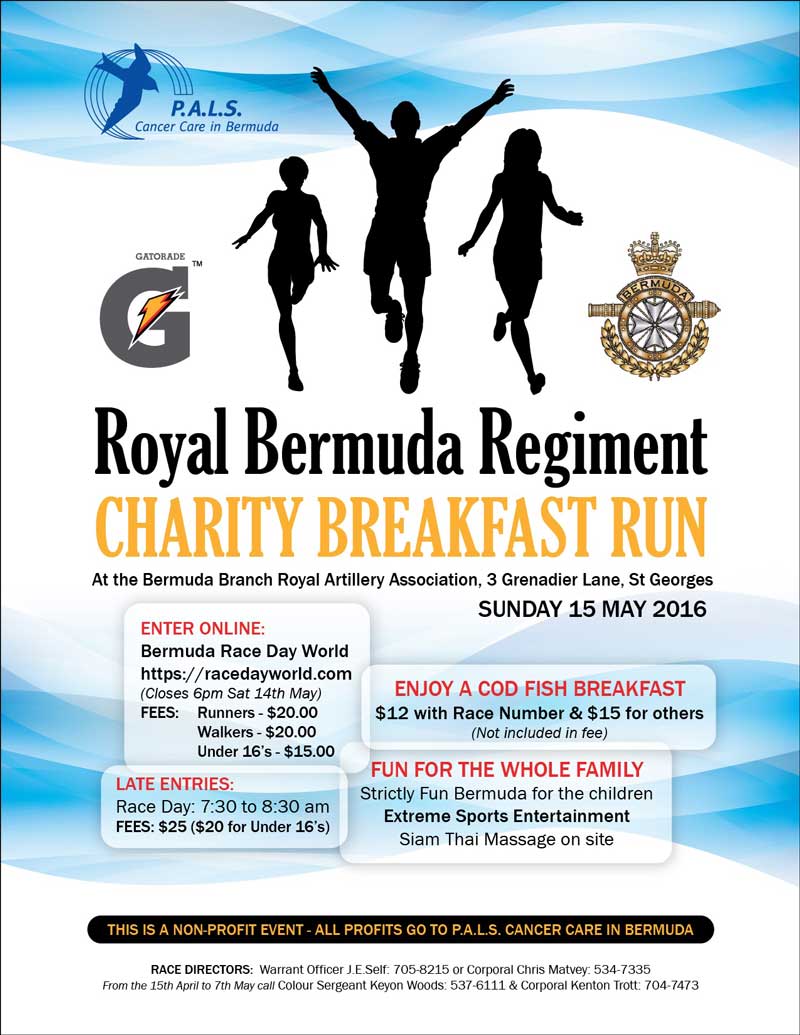 The RBR Charity Breakfast Run, which starts at 9am on Sunday at the Royal Artillery Association in Grenadier Lane, includes a 3k junior race, a 5k walk, and a 10k run with top prizes including two night stays at the Fairmont Southampton, champagne and RBR T-shirts.
The event will also feature a bouncy castle and other entertainment for children by Strictly Fun Bermuda, as well as sports company Extreme Sports Entertainment and Siam Thai Massage.
Codfish breakfasts, costing $12 with a race number and $15 without, will also be available at the RAA.
Regiment Adjutant Captain Duncan Simons said: "The RBR is part of the community we serve and we wanted a family event that will also assist a charity with the valuable work they do."
He added: "Promoting physical fitness and good health is a major part of the Regiment ethos and this is a good way of combining that with a day of fun for the entire family."
Registration for the race, which closes at 6pm on Saturday, can be done at https://racedayworld.com and costs $20 for adult runners and walkers and $15 for those aged under 16.
Late entries will be accepted on race day between 7.30am and 8.30am and will cost $25 for adults and $20 for under-16s.
Read More About