The Salvation Army Divisional Band's 20th anniversary Annual Spring Festival will be held on Saturday, June 4, with a theme of 'Endless Praise', coinciding with the release of the band's latest CD, dubbed 'Isle of Angels.'
The event, to be held at the Ruth Seaton James Auditorium starting at 7.30pm, will feature The Salvation Army Bermuda Divisional Band and Alumni [local & overseas], Timbrelists, and special guests United Dance Productions.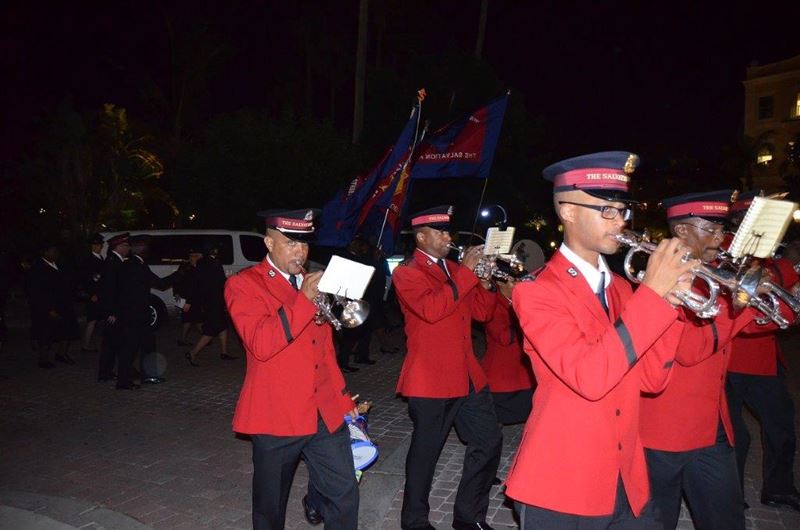 Bandmaster Warren Jones told Bernews, "This is our second album; it represents the last 10 years of music ministry of the divisional band. Our first recording, "Born Again," was released in 2005 and featured a compilation of some of the favourites of the first 10 years. This second album features the last 10.
"Salvation Army Music is broad as our denomination exists in 127 countries. Therefore, those various cultures exist through our music. The audience can expect to hear everything from Jazz to Salsa to Classical. The concert will be presented through the playing of our instruments, dance in the form of UDP, Tambourines and singing."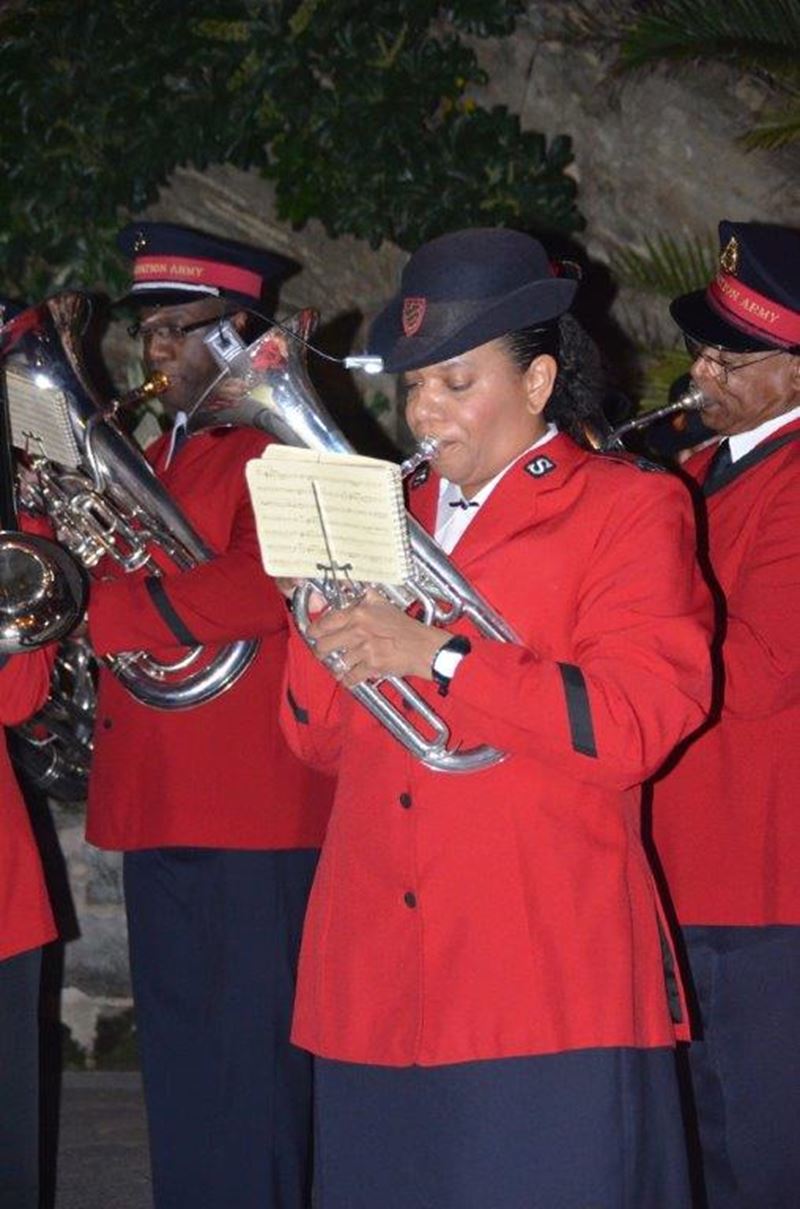 "The CD will go on sale to coincide with the Spring Festival. Therefore it will be available at the Ruth Seaton James Auditorium that night and following through members of the band, The Music Box and at our Divisional Headquarters on Roberts Avenue at a cost of $15. It will also be available on iTunes.
When asked about alumni member David Knight, who will be honoured at the event, Bandmaster Jones said, "Mr. David [DK] Knight is known as Mr. Music in Salvation Army circles. He is former Divisional Songster Leader and Bandmaster of the St. George's Corps of the Salvation Army."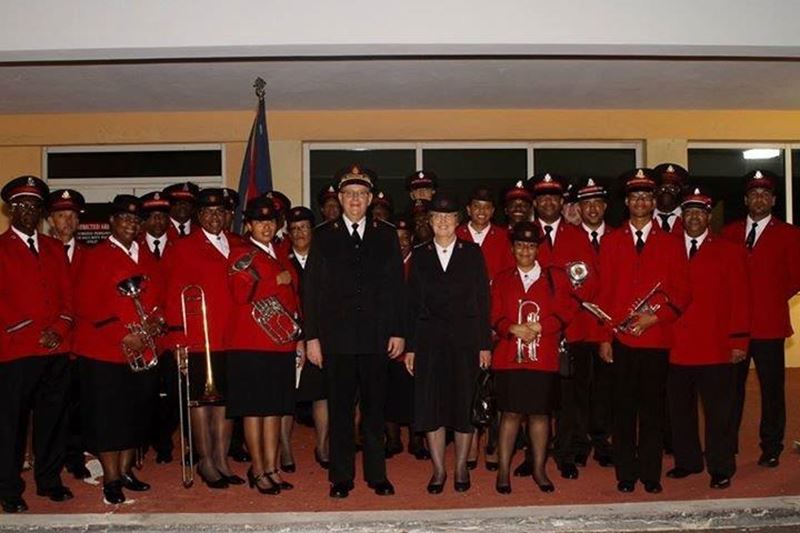 "DK was the first Bermudian to have their music published by the Salvation Army. He is a published composer and has played some role in the lives of every musician Salvationist for the last 60 years or more. The Spring Festival will pay tribute to DK through the debut of a new selection entitled Island Songsmith.
"This composition was composed by Len Ballantine, a well known Salvationist Musician and composer and features compositions written by DK."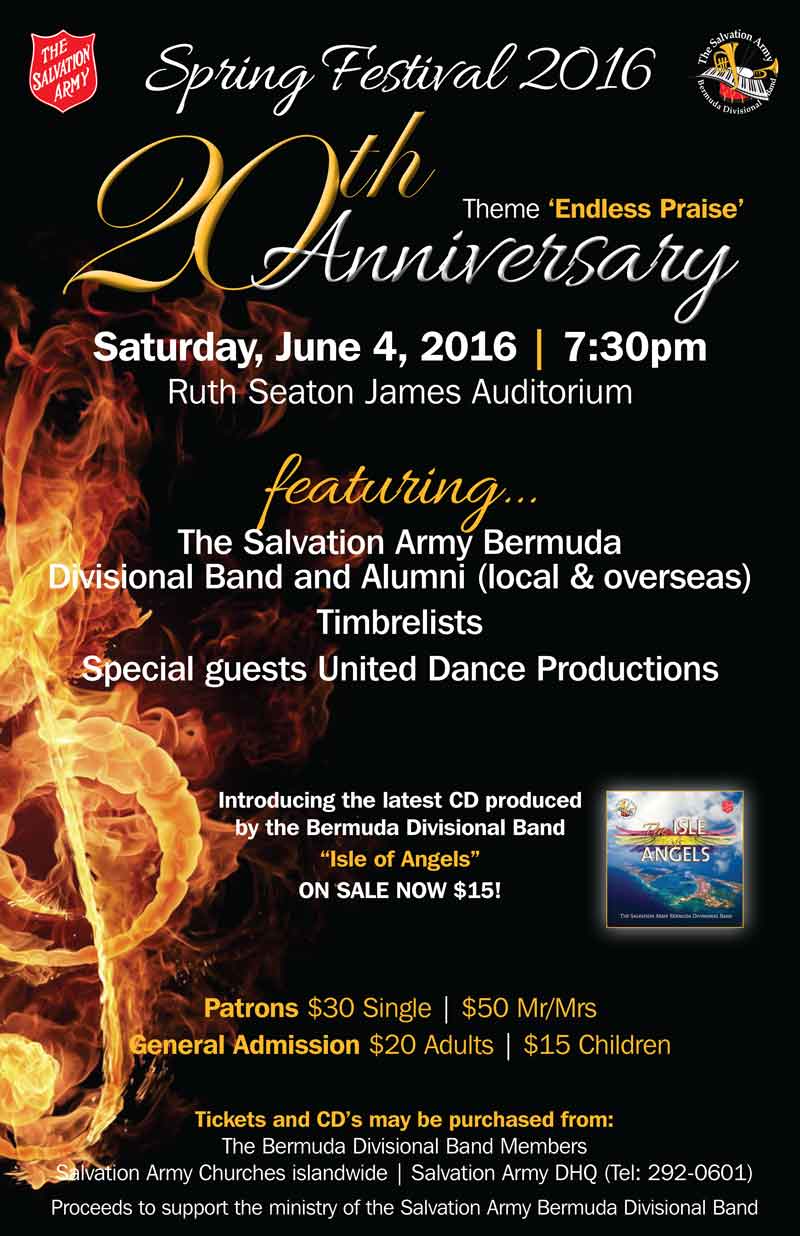 Tickets cost $30 for single patrons and $50 for couple patrons, $20 for adult general admission, and $15 for children general admission. Tickets can be purchased from the Bermuda Divisional Band members, Salvation Army Churches island-wide, or by calling 292-0601, with proceeds to support the ministry of the Salvation Army Bermuda Divisional Band.

Read More About
Category: All, Entertainment, Music, News