Royal Bermuda Regiment soldiers enjoyed a morning out on the water today [May 3] to experience a raft-up – Jamaican style.
Troops from Support Company took a break from tough training in the heat, mud and mosquitoes of the Jamaican jungle to enjoy a raft trip on the Rio Grande river. Lance Corporal Sandy Benevides, a storeman in Quartermasters' Company, said: "It was really relaxing.
Bermuda soldiers take to the Rio Grande on a raft trip during a break from training.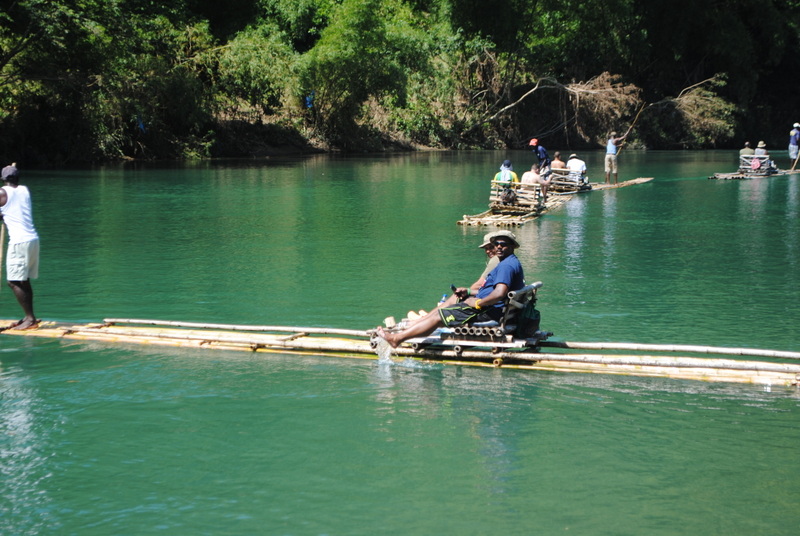 The 25-year-old delivery driver from Pembroke added: "The water was nice and smooth. It's definitely something I would do again. It's a switch up from our daily work routine. It's good to get to play tourist for a little while."
The soldiers joined the rafts, home-made from bamboo on site, around five kilometres up the Rio Grande and rafted down to where the waterway joins the Caribbean Sea.
Rafting on the Rio Grande as the Regiment takes a break from tough jungle warfare training.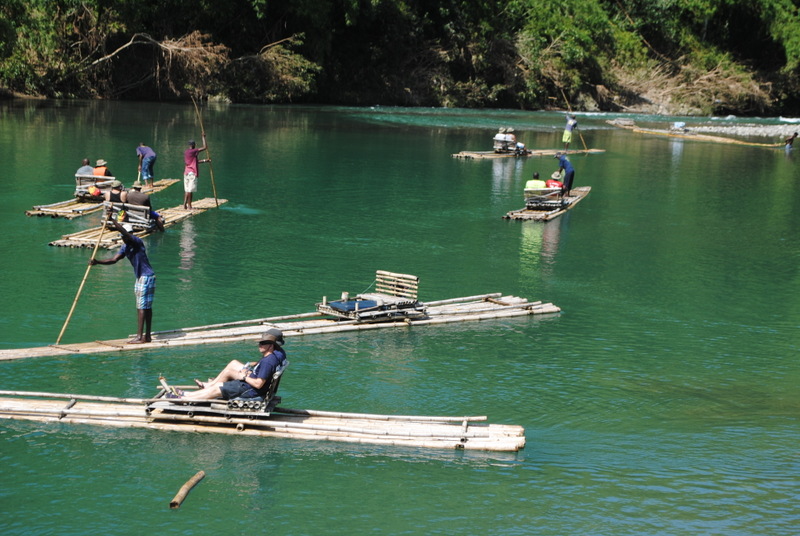 The boats stopped along the way at riverside stalls selling local delicacies and souvenirs. L/Cpl Michael Furtz, 26, from Warwick, said: "I got a bit of a tan – I'm ready for summer in Bermuda now."
The Motor Transport specialist, a service technician at soft drinks firm Barritt's, added: "It's definitely been a good wind down after hustling and bustling since we got here – Motor Transport does a lot of early mornings."
Marines for the day – soldiers set sail on a scenic trip down the Rio Grande river in Jamaica.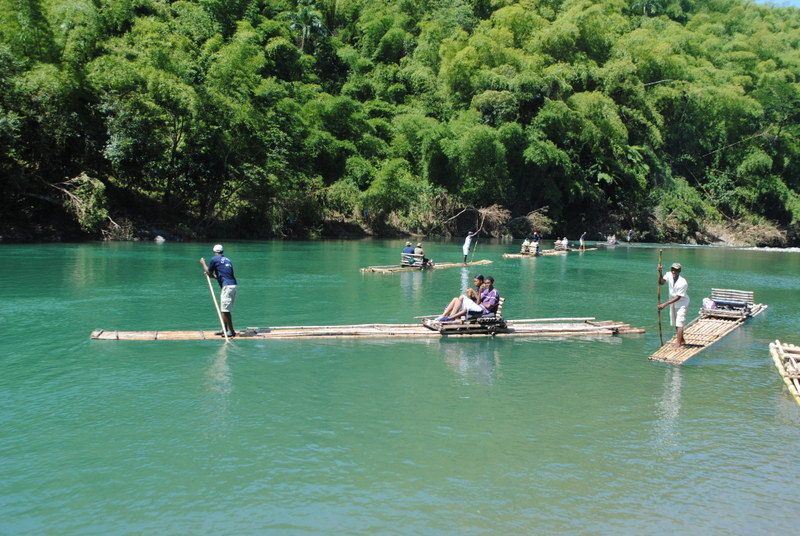 Private Tallia Zuill, 19, from Warwick, a member of A Company, said: "We stopped off along the way and it was great to see all the different food – it was nothing I've ever had before"
While Support Company was river rafting, the Royal Bermuda Regiment Band and Corps of Drums tuned up at Titchfield Camp for a concert in nearby Port Antonio after successfully completing joint training with their Jamaican Defence Force counterparts at Up Park Camp in Kingston and rifle qualification at the Twickenham ranges.
The RBR Band and Corps of Drums entertain local people in the centre of Port Antonio, Jamaica.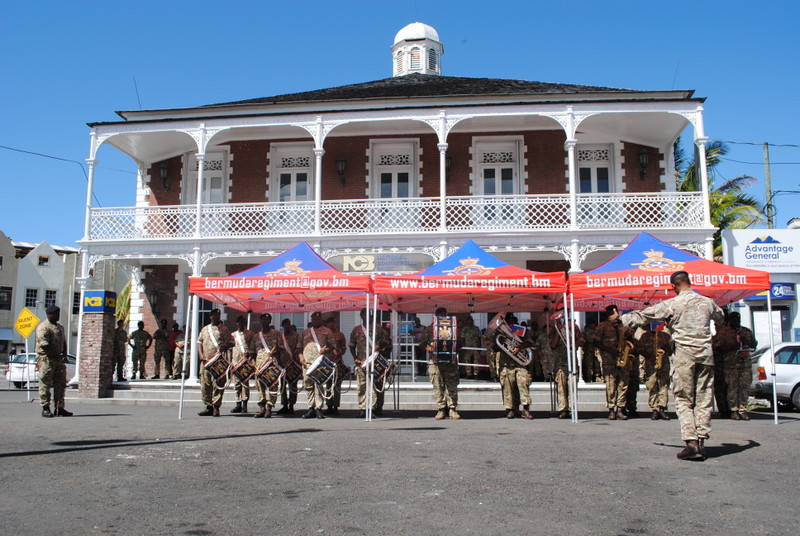 They also performed at historic Devon House in Kingston in front of top Jamaican Defence Force officers, Governor George Fergusson and other dignitaries and will play again tomorrow in Montego Bay.
The RBR musicians performed a concert just off Port Antonio's town square – and an impromptu one in the bandstand at the Errol Flynn Marina, where their bus was parked. Shavanie Ford, 16, a pupil at Titchfield School, said afterwards: "It's different from the music in Jamaica – I enjoyed it."
Locals and tourists lap up the music as RBR bandsmen entertain.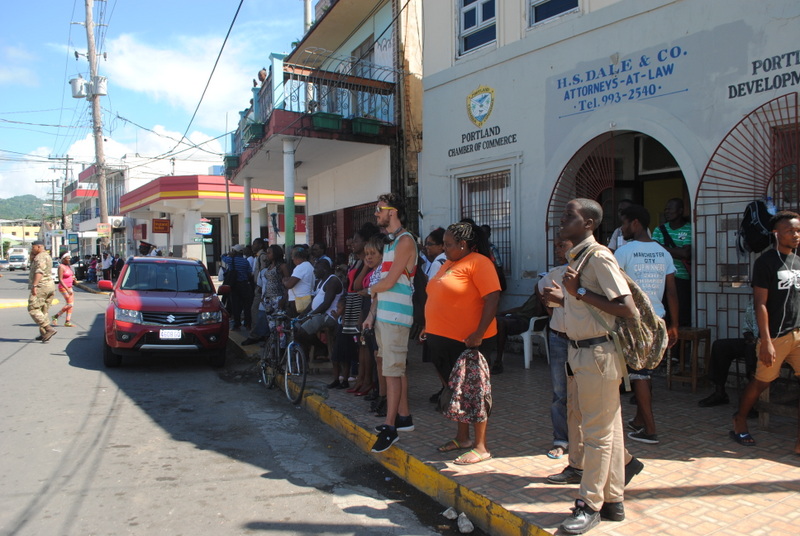 And PC Elroy Brooks, who stopped with colleagues to enjoy the music, added: "It was good – the movement and the uniforms were great. They were really neat and synchronized."
Piccolo player Adrien Lewis, 21, from St George's, said: "It's always nice to perform for the locals when we are away and they're always appreciative of the show. It's always rewarding to perform in public."
RBR CO Lt Col David Curley chats to Port Antonio youngsters as the band performs in the bandstand at the Errol Flynn Marina.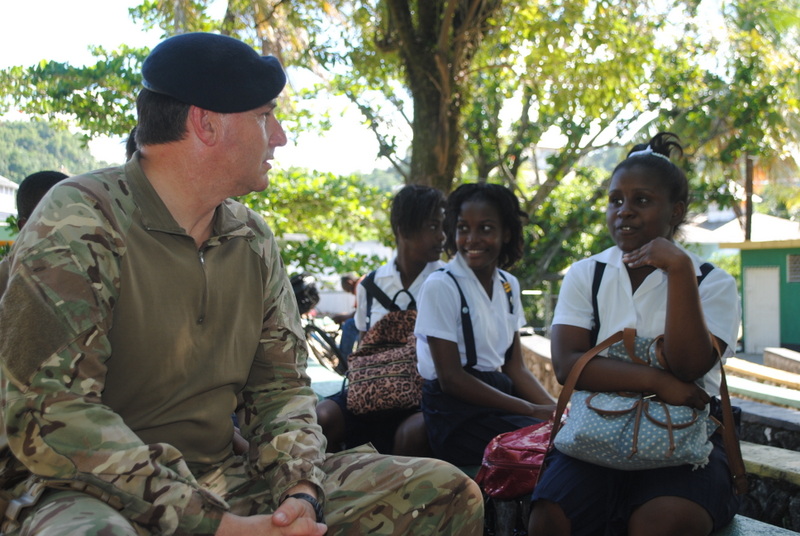 Alto saxophone player Corporal Gary Dowling added: "Jamaica always gives us a warm welcome. There were at least 300 people at Devon House and we had them dancing in the aisles – literally."
RBR Director of Music Major Dwight Robinson said: "We enjoyed playing in Port Antonio – the drummers' performance went very well and the trumpeters were very well-received too."
Local schoolchildren and a JDF soldier enjoy an impromptu performance in a public park bandstand by the RBR Band and Corps of Drums.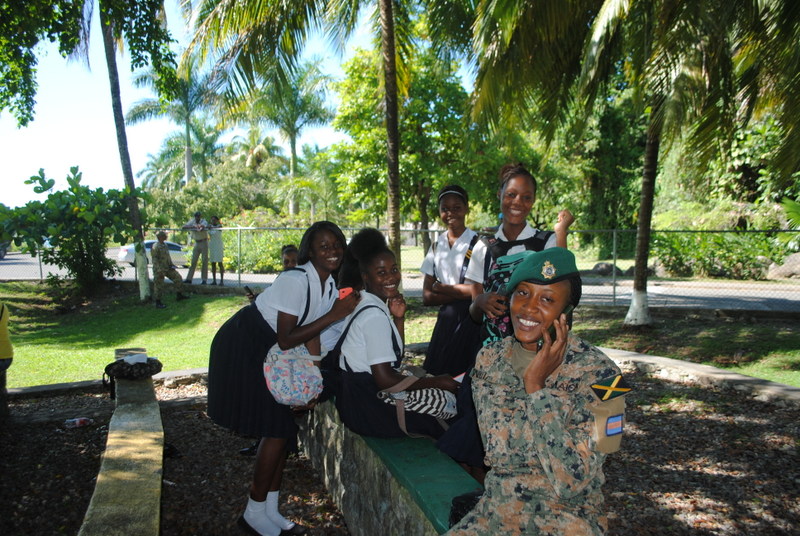 Read More About