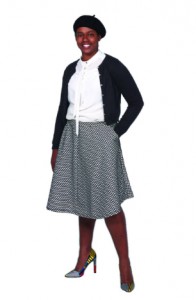 A Bermudian biomedical science lecturer in the United Kingdom is organising an international conference of scientists to convene in Bermuda, and between 100 and 150 attendees are expected to attend the conference, which will be held from November 8-11, 2016.
In 1996, scientists from the United Kingdom and the United States met in Bermuda to create the Bermuda Principles. Those guidelines had a profound impact on the Human Genome Project and was critical to the advancement of scientific research in general.
Dr Carika Weldon [pictured], the 2008 valedictorian at Warwick Academy, currently conducts research in the field of splicing and is an educator in the biomedical field.
Dr Weldon and her colleagues around the world are still indebted to the tenets of DNA transparency formed in Bermuda two decades ago.
This November the Bermuda Principles – Impact on Splicing Conference will return to the country of its origin. In fact, the Fairmont Southampton will host the delegation, the same property which hosted back in 1996.
Dr Weldon says she was motivated to "Bring It Home" for Bermuda and make this event happen in 2016, a milestone anniversary year.
"Bermuda is where I was born and raised and its where two local companies provided me with full scholarships that funded my education so it feels good to give back to a place that gave me so much," said Dr Weldon.
Between 100 and 150 attendees are expected in Bermuda for the conference November 8-11, 2016. Additionally, thanks to Dr Weldon's role as a lecturer at De Montfort University [DMU] in Leicester, and DMU's award-winning international programme #DMUglobal, about two dozen biomedical science undergraduate students are also expected to make an extended trip to Bermuda.
The students' visit will include workshops with public middle and high school students about careers in science in collaboration with the Department of Education and the local STEM initiative.
"I wish I could say this is what we had in mind when we rolled out the 'Bring It Home' Campaign last October, but the truth is, what Dr Weldon is planning far exceeds what was imagined at the outset," said Glenn Jones, the BTA's director of public and stakeholder relations.
"Our goal with the 'Bring It Home' Campaign is to empower everyday Bermudians at home and abroad about the positive impact they can have on the local economy when they're fuelled by their passions. Dr Weldon proves what is possible when you love what you do and you love where you're from."
"If the Bermuda Principles Conference reaches its attendance targets it will have an estimated economic impact of $145,000 on the Bermuda economy. The students' involvement will amplify the positive impact socially and economically," the BTA said.
Butterfield, the sponsor of Dr Weldon's PhD in Biochemistry through the Sir A. Dudley Spurling Postgraduate Scholarship, is also sponsoring the conference. "It has been great to have support from home to complete my studies, but it is even better to now have the same company continue to support my endeavours," says Dr Weldon.
Additionally, Dr Weldon is working with the Bermuda Community Foundation to raise money for the Bermuda Principles Legacy Fund. The fund will support the public schools outreach and potentially provide financial assistance and mentoring to Bermudian high schoolers that want to pursue careers in biomedical science abroad.
Dr Weldon said: "I would encourage any Bermudian, no matter where they are in the world, to consider what they can do to help their country. This conference was just something in my capacity to do and I'm proud to see it taking shape."
For more information about the Bermuda Principles Conference this November visit the conference website.
Read More About
Category: All, Environment, News