The Bermuda Cricket Board [BCB] said they are "pleased to celebrate some outstanding performances in the Axis Girls Cricket League in 2016.
"Axis are providing support for both middle and primary school girls cricket including league matches and the 2 All-Star Girls Cricket games at National Stadium on Thursday June 16th from 12.30pm to 4.30pm," the BCB said.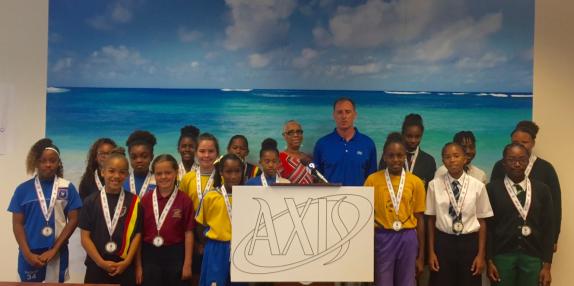 The winners are:
Sarai Packwood and Sophia Card – Northlands
Myeisha Sharrieff, Jahni Simmons , and I'Aura Golding – Elliot
Nevada-Ray Shakir Caines [*2] – Victor Scott
Shye Blair-Paynter – East End
Nacira Ratteray, Malaya Whitter and Sydney Santos – Prospect
Tele Simons, K'Xiyae Gibbons, and Airez Gilbert – West Pembroke
Katherine Bean-Rosario, Ayesha Payne – West End
Asia-Leigh Hollis – Warwick Academy
Zakhari Turner, Trinae Edwards, – T.N. Tatem
Stefanie Francis, Shanya Simmons, Se-lah Bean – Whitney
Additionally, the BCB presented a junior cricket set to West Pembroke Primary School to celebrate their victory in the BSSF Super 8's. West Pembroke beat out 15 other schools to capture the 2016 title.
Junior Minister for Social Development and Sport, Nandi Outerbridge, said: "As a female athlete myself I am very encouraged by the work of the Bermuda Cricket Board with Axis Capital. The interest in girl's cricket is growing and it is a pleasure to see so many young ladies enjoy our national sport."
BCB CEO, Neil Speight, said: "It is very exciting that Axis Capital have partnered with the BCB to help develop our girl's cricket program. We have many avid young girls in our academy and youth programs that will now have a stronger opportunity to shine and progress in our great sport.
"We are looking forward to growing this partnership to continue to provide opportunities for our young female players. I am especially encouraged by the involvement of cricket loving employees in Axis that are working with the BCB Girls Development Committee."
Sally Trott, Office Coordinator of Axis Capital, said: "Axis is very proud to be able to work with the BCB and BSSF to provide safe and fun opportunities for our girls to enjoy our national sport.
"The BCB worked with the BSSF last year to introduce a primary school league in addition to the existing Super 8 festival day.
"It is a pleasure to be able to reward and recognise the efforts of the MVP's of the league matches. We are looking forward to the inaugural Axis All-Star Day at National Stadium on June 16 that will feature the top players from all across the country."

Read More About