[Updated with video] Glen Smith, Theo Klimatsidas and Joseph Costigan Jr. took ownership of IBC Ltd from BAS Services in January of this year, and over the last few months the new owners said they have focused on restructuring the company's business operations to be more customer-focused and responsive to the needs of the local market.
Chairman of the Board Glen Smith said, "We have listened to our customers and their concerns over the last several months. We used this important feedback to develop new practices and protocols to address the issues our clients were experiencing with our service, in particular with our ZipX service.
"We have worked hard with our team of 37 staff to put these new practices into place and now we are tremendously excited about the opportunity and value that this transition represents for our business, our customers and our employees.
"We are committed to being a progressive company that will continually strive to offer superior products and services in terms of the local courier service market. We have a dedicated team in place locally and overseas, and with our people, we are now better positioned as a company to deliver the very best customer service to our valued customers."
Joseph Costigan of IBC USA, Glen Smith, Chairman of the Board of IBC Ltd. Bermuda & Theo Klimatsisdas, President & CEO of IBC Ltd. Bermuda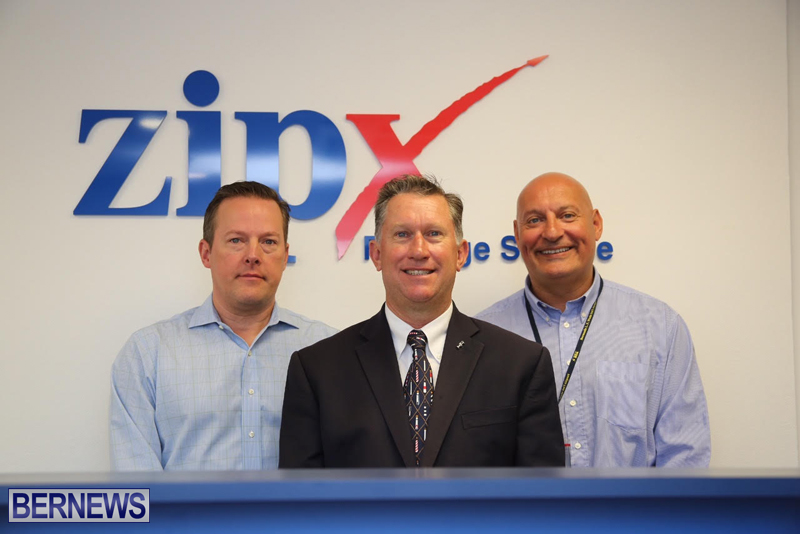 President and CEO of IBC Ltd. Bermuda, Theo Klimatsidas commented, "Our ZipX service was the #1 courier service in Bermuda back in the 1990's and early 2000's, but over the last several years it has slipped. In order to regain business share, we realized that our products and services needed to be improved upon to better meet the demands of our client base.
"Our customers voiced their opinions and not only did we listen, but we have acted. We are introducing new lower pricing across the board for our ZipX Service starting this month. We are also introducing completely new services, such as our ZipX Return Service and our ZipX Featherweight Service."
Mr. Klimatsidas continued "Our ZipX Return Service allows our customers to send packages back to the US for a flat rate as low as $14.95. This is convenient for our customers because before now, the cost of shipping back a package was usually too costly to justify it.
"And our new ZipX Featherweight service allows our customers to ship in items that are light in weight for a lower fixed rate of only $11.95. Now if you need something urgently and it does not weigh that much, then the fastest and most cost efficient way to get it to Bermuda is with ZipX's new Featherweight service, hands down. Items like ipods or cell phones or anything that is 8 ounces or less in weight qualifies for this featherweight service."
New Partner of IBC Ltd Bermuda is CEO and President of IBC USA Joseph Costigan Jr. noted: "Additionally we are proud to introduce to our ZipX Customers our new Partner Programme, whereby we have made agreements with certain US retailers that our customers will receive discounts up to as much as 15% off goods when ordered and shipped to their ZipX address.
"We are very excited about this programme because its potential for growth is great. We are signing on new partner – retailers almost daily and thereby offering our ZipX customers savings with popular US retail outlets. It's a win/win for all involved. Programmes and offers like our new Partner Programme is what we are working to further develop this year for our Bermuda market."
The company said, "Recent renovations have taken place at the IBC / ZipX facility in the Dallas Building on Park Road which reflects the new energy and philosophy of the new owners who are driven to recapture local market share of the courier business. Also the company is launching an advertising campaign this month to help educate everyone about the new and improved services that ZipX and IBC have to offer going forward.
Glen Smith added, "We want to thank the public in advance for their understanding and patience during this transition phase and we look forward to serving them. Providing outstanding customer service will be our number-one priority as we move forward under new ownership. "
For more information, please visit www.zipx.bm
Read More About