The International Tennis Federation [ITF] & COTECC [Central American and Caribbean Tennis Confederation] is holding Bermuda's only international junior tennis tournament starting this weekend, with some 150 players from Bermuda and around the world to take part.
This prestigious event is in its 13th year and is a unique opportunity for Bermuda's young hopefuls to compete in an international event for worldwide ranking points.
"Thanks to the generous sponsorship of the principle sponsor the Bank of Bermuda Foundation the Bermuda Lawn Tennis Association is able to team up with the international governing body of tennis to host this international event," the BLTA said.
"Participants are representing over 19 countries around the world. The event has drawn players from U.S., Canada and as far as Japan, India, Brazil, to name a few, and of course it draws participants from several Central American and Caribbean countries.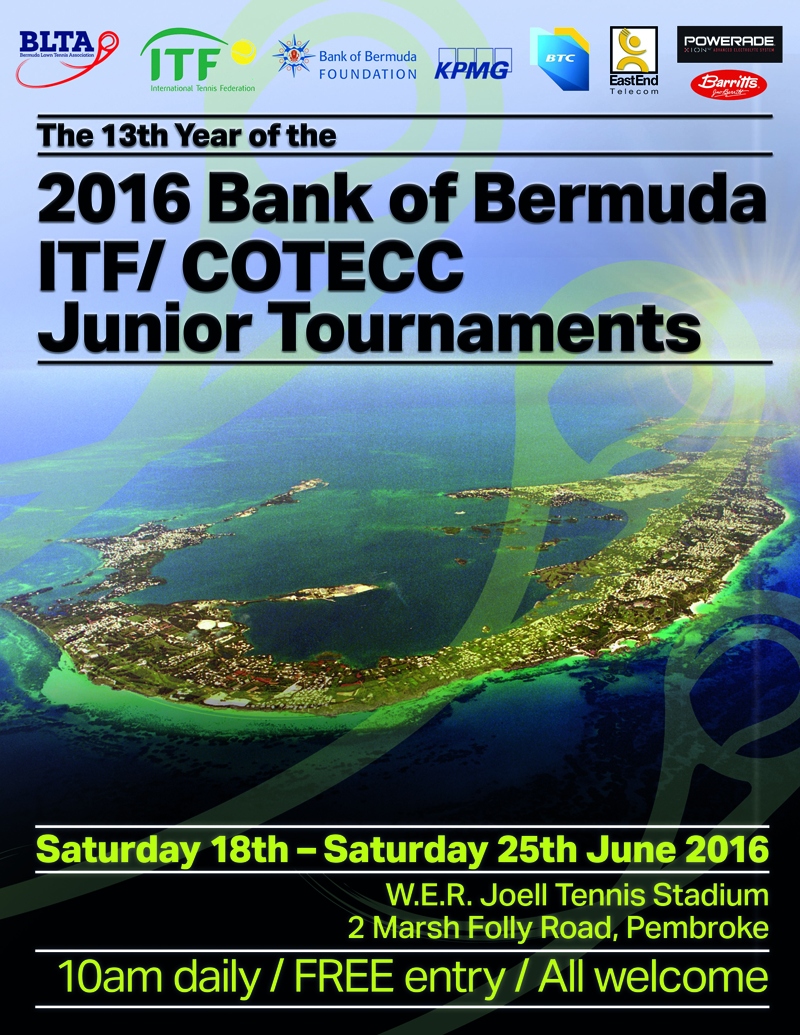 "Local players hoping to make their mark in this event are returning tennis academy players, Luke Sterling, David Leader and Ricky Mallory, Jr., together with Dillan Powell and Kaylah Ming. "
Ricky Mallory, BLTA's Tennis Director is asking the public to come out and support the local junior talent, saying: "This is a meaningful tournament on their calendar right in their backyard; we want the home crowd to rally behind these players.
"In a few years' time these players will be looking for valuable tennis scholarship and these tournaments matter on their tennis resume."
President of the BLTA Michael Wolfe said he would like to thank the principal sponsor The Bank of Bermuda Foundation for their long term support of this event together with sponsors KPMG, Barritts, Wilson, BTC, Grandview Tent & Party Rentals and East End Telecom.
He said, "It is a significant undertaking to host an international quality event, both financially and with the time and dedication of the tennis volunteers and community as whole.
"Without their support our juniors would have to pay to travel to these types of events. We are so thankful for the support of the local community and the Department of Youth and Sports as well as the Bermuda Tourism Authority."
Match play starts on June 18th and runs through June 25th and will see participants competing in both boys and girls COTECC events for under 12, under 14's and the ITF event for under 18's boys and girls.
All match play will take place at the WER Joell Tennis Stadium starting at 10am. The daily schedule will be available on the BLTA's website, www.blta.bm. Matches are free to the public and it's set to be an exciting level of tennis in Bermuda.

Read More About