Sunday [July 31] is the deadline for ideas for the future use of Cross Island to be submitted.
So far more than 180 submissions have been made via an on-line survey ranging from a brothel called the Queen of the West, to a venue for live music.
"We set out to get more than 150 ideas," said the chairman of the Cross Island Legacy Committee Wayne Caines. "Now I think it is realistic so say that we want 200."
Cross Island is nine acres of reclaimed land at the Royal Naval Dockyard, which will be home to the America's Cup event village next year.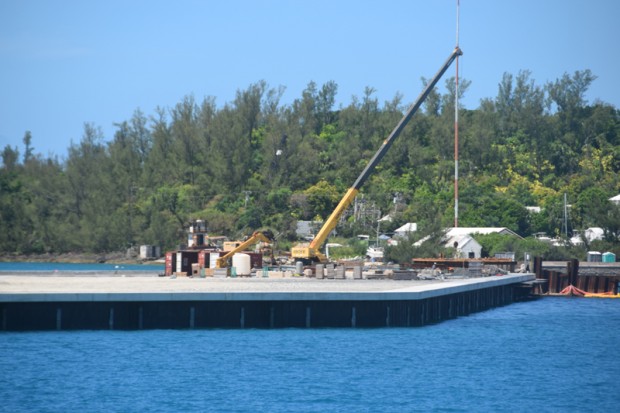 The Committee, aided by Deloitte, has been tasked by the West End Development Corporation to consult as widely as possible to ensure the community is given a chance to submit ideas for the land's use.
Mr Caines added: "I got involved in this Committee because this area of land represents a genuine opportunity to create a legacy for Bermuda.
"I think we must have had at least 50 people suggesting a water park, but that does not mean it will among our recommendations to WEDCo.
"The Committee has a meeting soon after the deadline has passed when we will start the process of making recommendations on the use to WEDCo," added Mr Caines.
Ideas will be scored against agreed weightings on a series of objectives.
They are:
Economic – provides economic benefits to Bermuda 2. Environmental
That it is sensitive to the environment, surrounding historical significance, and marine habitats
Financial – that it delivers a good Return on Investment (ROI) for Bermuda
Whether it is financially viable
Social / Cultural – whether it is connected to Bermuda's heritage and culture and provides social benefits to Bermuda
Structural. Is a good fit for the location, physical site, and exposure to weather and elements?
Financial is weighted 16; economic is weighted at 25; environmental 20; social and cultural is 19.5, and structural is also 19.5.
According to Mr Caines, WEDCo is committed to undertaking a transparent and inclusive RFP process once the Committee has submitted its ideas, which may be one use or a multitude of uses.
"If you have an idea – however off the wall you think it might be, please submit it, we've had the idea of a brothel already after all," added Mr Caines.
Read More About