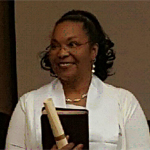 Reverend Eugenia Patricia Dean's Minister installation service will be held on July 10 at Unity Bermuda at 11.00am, to be officiated by the Board President, Michael Williams.
Reverend Dean was ordained a Unity Minister on May 6, 2016 in Detroit by Unity Worldwide Ministries.
A spokesperson said, "Eugenia Patricia Dean is the first Bermudian Unity Minister, ministering at Unity Bermuda, in Bermuda.
"She completed the Skills Demonstration Seminar [SDS] in August of 2012 becoming a Licensed Unity Teacher.
"In December of 2012, Reverend Dean received her blessing on becoming a Licensed Unity Teacher [LUT] by Reverend Paulette Pipe at Unity Bermuda and officially confirmed as the Spiritual Leader at that time. Reverend Dean then started the Ministerial program with Unity Urban Ministerial School [UUMS] in October of 2012 and graduated May 2014.
"Through ministering, Reverend Dean loves to share the Unity teachings and practices with others. Each week she finds joy in preparing her talk, researching different ideas and presenting them with bible verses or other tools that lift and inspire her congregants.
"Reverend Dean also holds a mid-week Mediation time at Unity to refresh, and renew the spirit of anyone wanting to participate. Reverend Dean meditates daily and has a monthly prayer partner call that keeps her in alignment with Spirit.
"Reverend Dean loves to travel and has been to many parts of the world either hiking or just vacationing. She loves to read, walk and play with her dog Midas Touch, spend time with her husband Joe, her large family, cooking, and baking breads.
"Reverend Dean gives thanks for many blessing and looks forward to her continued spiritual transformation as an Ordained Unity Minister in Bermuda."

Read More About
Category: All