News that SoftBank Team Japan donated the prize money from Foil Fest to local charities, Jordan Simmons-Trott received Conyers Dill & Pearman's $5,000 Leadership Scholarship Award, and Flatts Menswear is opening a second store in Hamilton were all some of the positive news stories from the past week.
In other good news, Port Royal Golf Course has established a free initiative aimed at encouraging more young people to try golf, the Ocean Tech marine project will be helping to save the world's oceans, and Bermuda fared well at the 2016 CEA Dressage Challenge.
Additional good news stories included Reyna Kermode and Maia Steele winning Nonsuch Camp awards, and students Giovanni Hollis, Corrie Cross, Shane Krueger, and Yusef Bushara leaving for France for three weeks of French immersion studies.
We also posted various community photo galleries, including coverage of the Hamilton Princess' recently completed renovation project and a roof-wetting ceremony at its new Exhale Spa, July 4th fireworks in Paget, Building Blocks Academy's annual showcase and graduation, the Kardias Tea at Fairmont Southampton, and the Portuguese Festival of the Holy Spirit.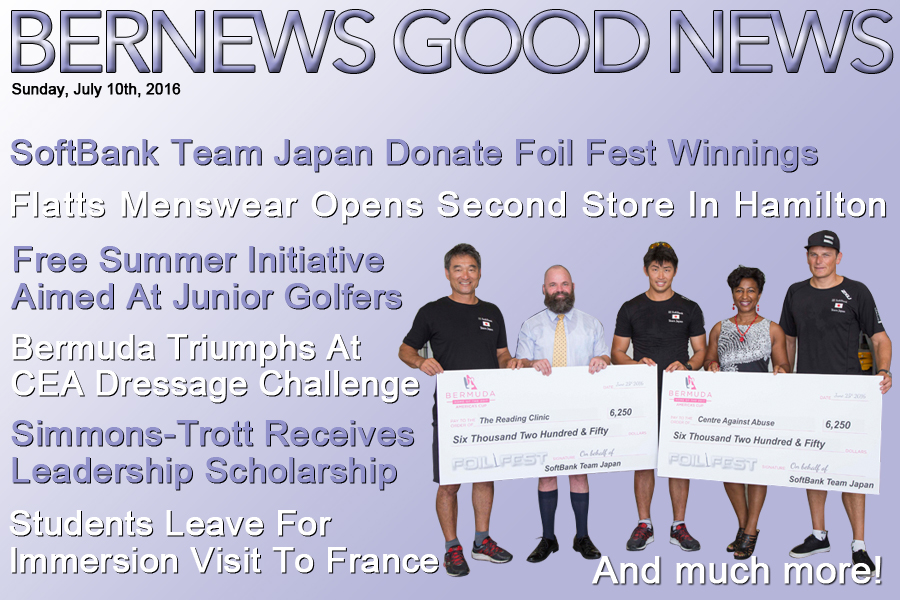 In an effort to highlight some of positive news happening in our community, we supplement our standard morning and evening email newsletters with a special Sunday "Good News" email newsletter edition, which strictly focuses on the positive news from the past week.
You can sign up to have the free newsletter delivered via email here, and/or access the links below. In addition, for those who like positive news, please feel free to visit our sister site ForeverBermuda.com, which seeks to showcase the best of Bermuda as well as provide information and listings for visitor related services.
Links to some of the 'good news' from the past week are below:
Read More About