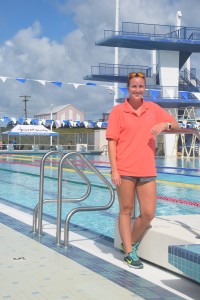 The pool at the National Sports Centre is making a huge splash – recording its busiest year since it opened.
Bookings are already being taken for next year as demand continues to surge, according to Amy Fox, the Aquatics and Fitness Manager.
Ms Fox said: "Basically we've just been crazy busy over the last few months. I've been working here for almost three and a half years now and when we opened for our first summer in 2013 it was quiet. A lot of people didn't know about us then.
"However, thanks to birthday parties, camp visits, social media and word of mouth, we've seen a huge increase in people signing up to use the pool."
In addition to the regular dive camps run over the summer months, the pool has been visited by a host of local summer camps each afternoon.
"On the weekends we've also been fully booked up," Ms Fox said. "We've had as many as two parties a day, which is a first for us – usually there's only one.
"We've booked birthday parties all the way up to October and I've already received bookings for camps for next summer. There is limited space so our regulars know to book well in advance."
She said the visitors represented a wide cross section of the community – from toddler age up to seniors in their 80s.
"We continue to introduce new and different programmes to the Aquatics Centre, which is bringing new people to our facilities," she added.
"That's why the environment here has been so great – there's just so much going on. We haven't had to do much to get people's attention this summer. It's hot and we are a great alternative for people who don't want to go to the beach or deal with the sand; a lot of them prefer to come here."
The Aquatics Centre at the National Sports Centre will be switching over to its autumn schedule as of September 1. Hours will be from Monday to Friday 6.30am until 7pm; Saturday 1pm until 5pm; Sunday 9am until 1pm.
For more information or to make a reservation call 295-8085.

Read More About