The Bermuda's men's volleyball team continued competition in the NORCECA 2018 World Championships Qualifiers in Grenada, with Bermuda defeating St Kitts & Nevis 3-1.
NORCECA's match report said, "After giving up the first set, Bermuda clawed back to dismantle St Kitts and Nevis 3-1 [14-25, 25-19, 25-21, 25-23] Sunday morning [Aug 21] at the Laborie Indoor Facility to gain their first win in the men's Group B of the NORCECA Zone FIVB World Championships Qualifiers.
"It was all for St Kitts and Nevis to play for following their win against host Grenada on Saturday night, but they were met by a resurgent Bermuda team that brought their best all round match in the tournament.
"Bermuda's captain and Outside Hitter Daniel Fiddick counted 16 points, while Middle Blockers Brad Meindersma and Eron Woods both had 12 points apiece.
"Fiddick had 13 spikes of his own as his team won in this category 46-41. Bermuda won on Blocks as well, 7-6.
"St Kitts and Nevis' top scorer was Outside Hitter – St Clair Hodge who had 16 points with the other Outside Hitter- Rohan Jeffers counting 12.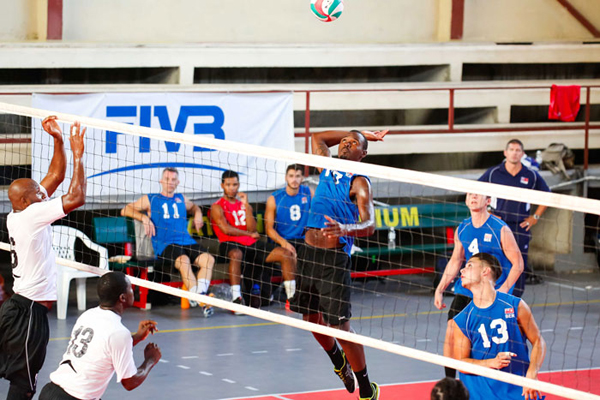 "Coach of the Bermuda outfit John Gazzard was happy with his team's output on the day."
"This is the team that showed up for this match is the team I knew I had, I just needed them to gel and as the tournament wore on they did", Gazzard related.
"He revealed that some rotations of personnel and use of the bench were pivotal in his team's triumph.
"On the contrary, coach of the St Kitts and Nevis team- Joao Carlos Morales de Campos blamed fatigue for his team's loss, stating that they had exerted a lot of energy to get past Grenada in their previous match.
"Both teams ended the preliminary phase with one win and two losses. All five matches in the tournament thus far have resulted in 3-1 winning margins.
"Next on court are St Vincent and the Grenadines and Grenada in match six, which closes off this phase of the tournament."

Read More About