The Corporation of Hamilton says the new City Hall Car Park paid barrier system will be operational from August 22nd, and held a press briefing yesterday to provide an overview of the new system.
A spokesperson previously said, "The City of Hamilton wishes to advise the public that City Hall Car Park will be fully operational as a paid barrier system car park from Monday August 22nd, with a soft opening on Sunday August 21st where motorists can use the system for free.
"The rates for parking will be $2.00 per hour for a maximum of 3 hours. Extra tariff charges apply after the 3-hour maximum limit, to discourage motorists from overstaying the limit.
"It is the City's hope that this car park be used as intended, for stays up to 3 hours and that the higher tariffs will serve as an incentive to do so. Motorists who stay within the 3 hour limit are not impacted in any way by the higher tariffs."
.
Use Of City Hall Car Park Effective August 22, 2016:
1. Press button at entry for entry ticket. Barrier arm will raise. Right turn only upon entry
2. Park car. Store entry ticket in safe place.
3. Pay before exit. There is no payment at exit. Scan entry ticket and pay as directed by machine. Receive exit ticket. Return to car and drive to exit.
4. Scan exit ticket at exit gate. Barrier arm will raise. Exit car park.
City Hall Car Park is 3-hour parking.
Tariff for overstaying 3 hours is $10 extra.
Tariff for overstaying 4 hours is an additional $65.
Tariff for lost ticket is $81.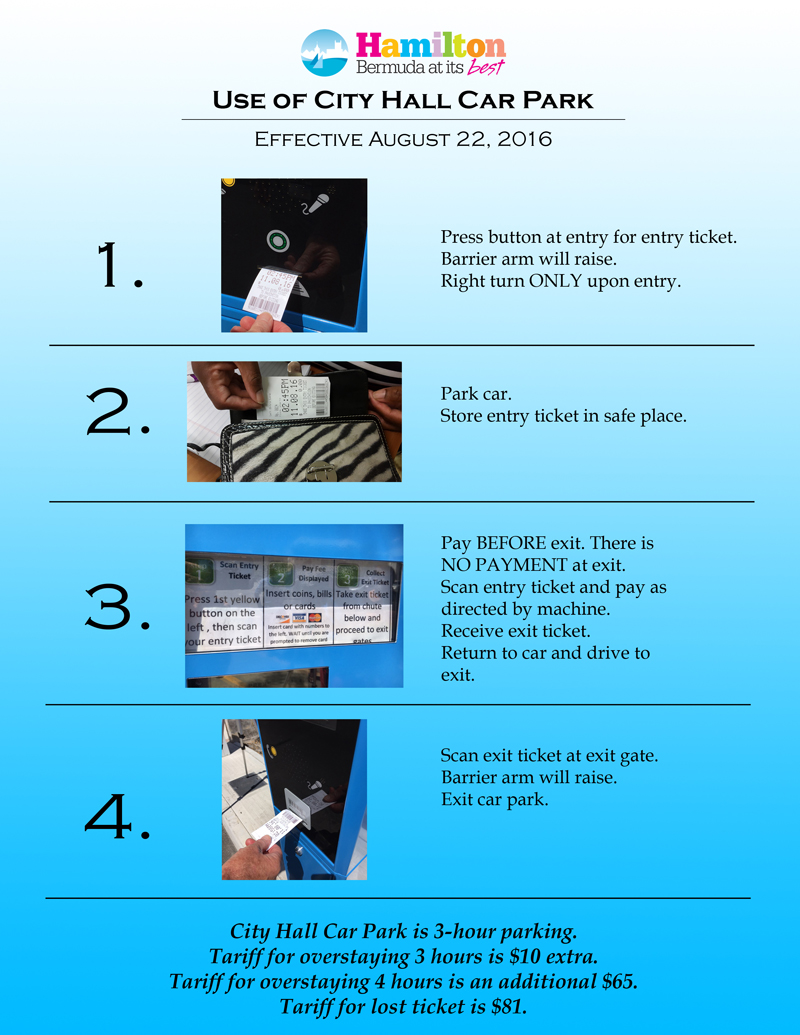 Click to enlarge photos:
Read More About