"Vacation air arrivals were up 10 percent through the first six months of 2016 after two strong quarters of growth," the Bermuda Tourism Authority announced today, saying the "68,462 leisure air passengers landed in the first half of the year make for the largest volume of air vacationers since 2008."
"The strong start to the year extends to visitor spending, hotel occupancy and cruise arrivals as well – all of those industry performance areas are up between January 1 and June 30, 2016," the BTA said.
Chart: BTA/Immigration Landing Cards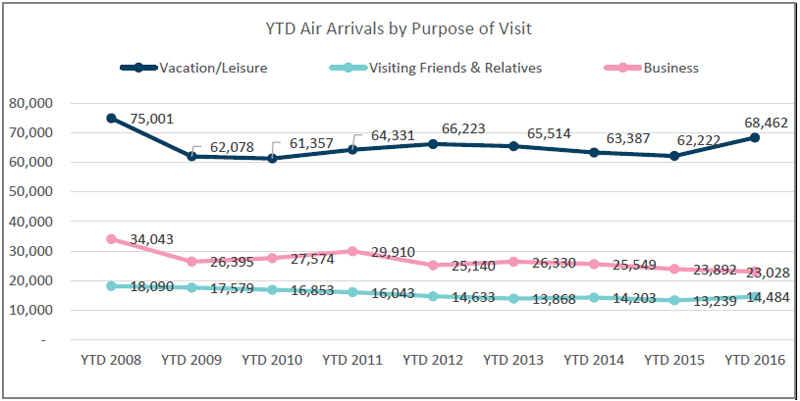 The BTA said, "In the second quarter, major travel and tourism indicators charted positive results when compared to the same period a year ago:
Air vacation arrivals up 8.8 percent to 50,273
Air vacationers spent an estimated $69.3 million, a 15 percent increase
Hotel occupancy grew 2.7 percent
Cruise arrivals were up 3 percent
Total number of airline seats flying to Bermuda increased 10.6 percent
"The second quarter performance comes on the heels of first quarter data which showed a 13.7 percent increase in vacation air arrivals, a 4 percent increase in leisure air visitor spending, a 7.4 percent increase in hotel occupancy and a 21.9 percent increase in airline seat capacity.
BTA CEO Bill Hanbury said, "The second quarter data shows a solid recovery underway within Bermuda's tourism industry; every key indicator is trending in a positive direction."
"In no uncertain terms, these two quarters of results are a reinforcement of the BTA's marketing and management approach.
"When you combine excellent business intelligence, strong marketing execution and a dedicated team of Bermudians working overtime to turn the economy around, this is the result: stellar performance.
"Although we're very pleased about this progress we won't spend too much time looking backward. We're focused on finishing the year as strongly as we started it."
Visitor Spending
The BTA said, "Vacationers poured $90.1 million in direct spending into the local economy during the first six months of the year – $10 million more than a year ago – representing a 12 percent increase.
"The increase in average spending per person is more modest. On average, visitors spent $1,316 per visit, a 2 percent increase over the same January to June time period in 2015.
Chart: BTA Air Visitor Exit Surveys

"Business visitor spending and money spent by visiting friends and relatives were also up year-to-date versus 2015. When those categories of visitor are factored in, total visitor spending is up 13 percent from $119.3 million to $135.2 million."
Hotels
"Hotel occupancy grew 4.4 percent during the first six months of the year when compared to the same period in 2015. Hoteliers commanded a slightly lower average daily rate, but because more of their hotel rooms were occupied, overall revenue is up."
A more detailed overview of second quarter and year-to-date tourism industry performance is available on the BTA's corporate website, and also printed below.
The  Q2 2016 Tourism Measures Public Report follows below [PDF here]:

Read More About