Canada, Costa Rica, Mexico and the United States secured the final four places in the 2016 CONCACAF U-15 Girls' Championship after winning their quarterfinal games on Wednesday.
Bermuda advanced to the quarterfinals after making an excellent showing in the first round with a 3 – 0 victory over Cayman, a a 3 – 1 win over the Bahamas, and a 7 – 1 victory over Antigua & Barbuda. The team then matched up against the United States on Wednesday, and despite their best efforts they were defeated 12 – 0.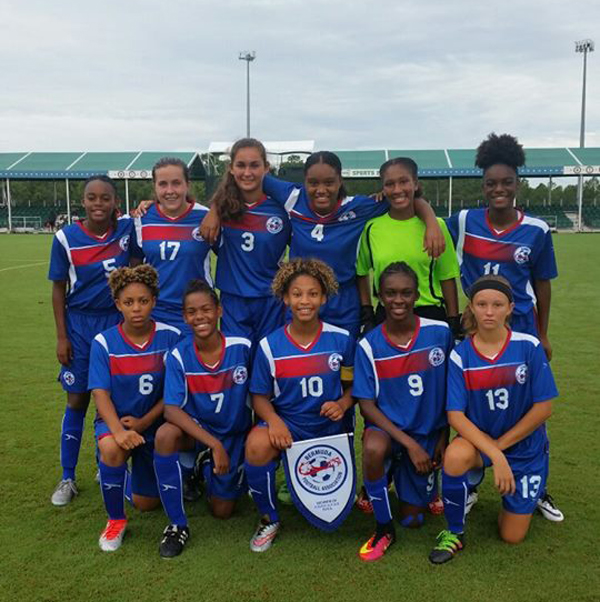 The CONCACAF match report said, "Payton Linnehan [9', 19', 29'] and Mia Fishel [22', 33', 36'] scored three goals each and the United States earned a 12-0 win over 10-player Bermuda.
"The Americans took an early 1-0 lead thanks to the first of two goals by Gabrielle Robinson [5', 13' pen]. Madison Mercado [24', 35'] completed her brace just before halftime to extend the advantage to 9-0.
"Kalyssa Van Zanten [44'] and Samantha Meza [46'] struck after the break, lifting the USA's goal total to 42 in five games [0 goals conceded]. Linnehan and Robinson, along with Mexico's Alison Gonzalez, are the CU15G's top scorers with seven goals. "
Bermuda's team includes Leilanni Nesbeth, Zakhari Turner, Adia Gibbons, Koa Goodchild, Gaiya Melakot, Megan Titterton, Tianna Mullen, Delia Ebbin, Emily Cabral, Danni Watson, Jadae Steede Hill, Trinae Edwards, Jya Ratteray Smith, Jaden Masters, Jordan Davies, Sh'Nyah Akinstall, Lindsey Pacheco and Nia Christopher.

Read More About