Viewers are to be taken on intimate tours of "some of the finest homes in Bermuda" when a new local television production, called "Inside Bermuda Homes", debuts at 8.00pm on Monday, August 22 on ZBM-TV Channel 9.
The first of the six-week series will kick off with a tour of the public rooms at Government House, furniture, art objects and the Royal Suite, plus conversations with former Governor George Fergusson and his wife Margaret, who elaborates on the popular school gardens project on Government House grounds.
Following episodes feature the homes of a local author, a husband and wife team of architects, a politician, and others.
The "Inside Bermuda Homes" team includes Wendell Simmons [Technical Producer], Dennis Sherlock [Cameraman], and Host/Producer Charles Webbe, combining close to a century in broadcasting and communications experience, with the team hopeful that the first series of six episodes will result in a second series to be aired in the fall.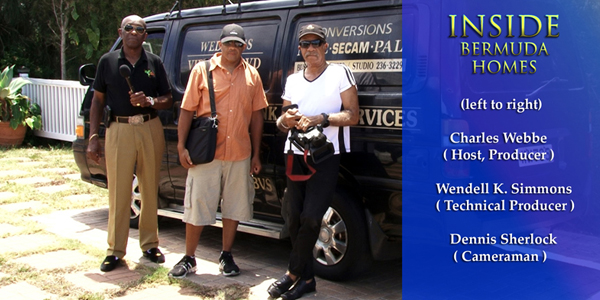 "We wanted to launch before the Fergussons left the island, but getting sponsorship and, of course, the Olympics, made it necessary to delay the airing until the 22nd," said Charles Webbe, host of the 30-minute episodes.
"Producing such a series is a very expensive proposition, but we decided to take a chance, do the filming and all the pre and post-production work without remuneration, hoping it would be of interest to our sponsors and we are pleased to say they were interested.
"And to think that all of this was accomplished without egos getting in the way." said Mr. Simmons.
Mr Webbe said, "We tend to take for granted the role our homes play in the cultural aspects of our lives, not only how they are designed, constructed and even painted. Bermuda architecture is unique. Some its features are replicated in houses overseas, which should be a source of pride to Bermudians."
"The way we collect our drinking water, the pastel colours — the flavour of it we have tried to is capture in the series."
Regarding the Bermuda Garden Club and the Bermuda Rose Society's efforts to create interest in Bermuda's homes and gardens, Mr. Webbe said, "They were the catalyst behind making homes and gardens available for public viewing and thus opened our minds and encouraged us to pay more attention to our homes, regardless of our economic position.
"The episodes will show that with or without influences of interior designers Bermudians created in their homes features that reflect a focal part of their lives, whether enjoying their gardens, their art and furniture, pieces handed down from past generations — or as a venue for entertaining.
"This applies even to wealthy residents whose homes are not ostentatious, but reflect an element of respect for local traditions and good taste."
Mr. Sherlock said, "This series gives viewers an opportunity to see how other people live through the benefit of television – without having to leave their own homes."
Mr. Webbe said, "An extremely popular marketing tool during my days in the tourism industry was entertaining travel writers and travel agents in private homes to enjoy that personal charm that is Bermuda. It was the icing on the cake."
A spokesperson said, "He recalls the views of a prominent American travel writer, the late Stephen Birnbaum, who constantly wrote about the uniqueness of Bermuda homes, which he considered one of the island's special charms.
"Even though he differed with some of the marketing tactics of the day there was one aspect of Bermuda on which he was sold. He would often say: 'I loved the Peninsula in Hong Kong, the Ritz in Paris, Claridges in London and the Mark in New York. But I have to tell you, they pale in comparison to an invitation into a Bermuda home.'
"The 'Inside Bermuda Homes' team hopes this new television series will amply reflect that sentiment.
"We are particularly grateful to our sponsors: Benevides & Associates, BAC Ltd, Butterfield & Vallis, Lili Bermuda, Surface Trends, Sash & trim and Rego Sotheby's International realty, BF&M Ltd – all pitched in to support this effort."

Read More About
Category: All, Entertainment, News