Zara Wilson was announced as the MVP for the second day of the Digicel Jumpstart Clinic. The 16 year old Berkley student, who was selected by the NBA coaches for her performance and attitude, was awarded with a new Digicel DL1 and prepaid Freedom Bundle.
After receiving her prize Zara said, "When I came in today I was very excited and I'm starting to learn new skills. I was making mistakes in the first day but now I realise it's good to make mistakes as it shows I am learning so I hope tomorrow, our last day, I can really be at my best."
Zara Wilson is pictured with NBA coach Matt Brase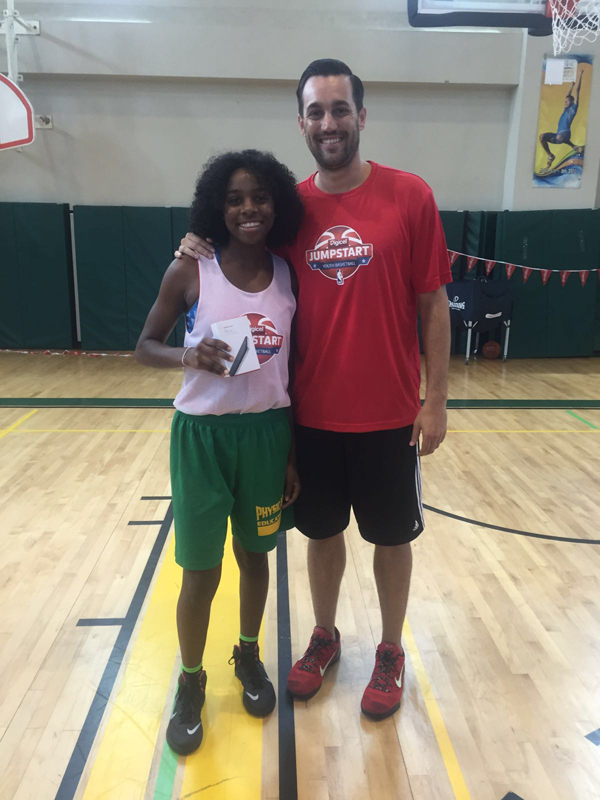 The second annual Digicel Jumpstart clinic is taking place at The Berkley Institute. The Digicel Jumpstart clinic is a youth sports initiative that takes place in select countries across the Caribbean and Bermuda, with Bermuda hosting the first one of 2016. The clinics give young basketballers, aged 14 to 16, access to elite NBA coaches in order to advance their skills.
Digicel Bermuda, for the second year running, have partnered with the Bermuda Basketball Youth Federation to ensure as many young basketballers get the opportunity to avail of NBA coaching. This year the clinic has been opened up to girls and at the end of the three day clinic the coaches will select seven players, five boys and two girls, to represent Bermuda at the elite coaching camp in October in St Lucia.​

Read More About