An article printed in a 1930 edition of the London News offers a look the undersea dive off Bermuda's Nonsuch Island in the 1930s, which was a record breaking feat at that point in time.
On August 15, 1934, Dr. William Beebe and Otis Barton descended in their bathysphere 3,028 feet beneath the ocean surface off Nonsuch Island, Bermuda. This was some half a mile deep, and set a depth record that remained unbroken for 15 years.
The article said, "A 1426-Ft. dive in a steel ball: The Beebe record descent in the sea off Bermuda.
"About to be lowered into the sea: the steel ball containing the adventurous men of science, to whom oxygen was supplied; while they were in communication with those on the surface by means of a telephone.
"The steel ball containing Mr. William Beebe and Mr. Otis Barton being lowered into the sea for the record dive: a photograph showing windows of fused quartz and the link-line.
"Recording the report made by telephone by the divers as they observed sea-life from the ball at a depth of 1426 feet: Miss Gloria Hollister, on the surface, taking notes.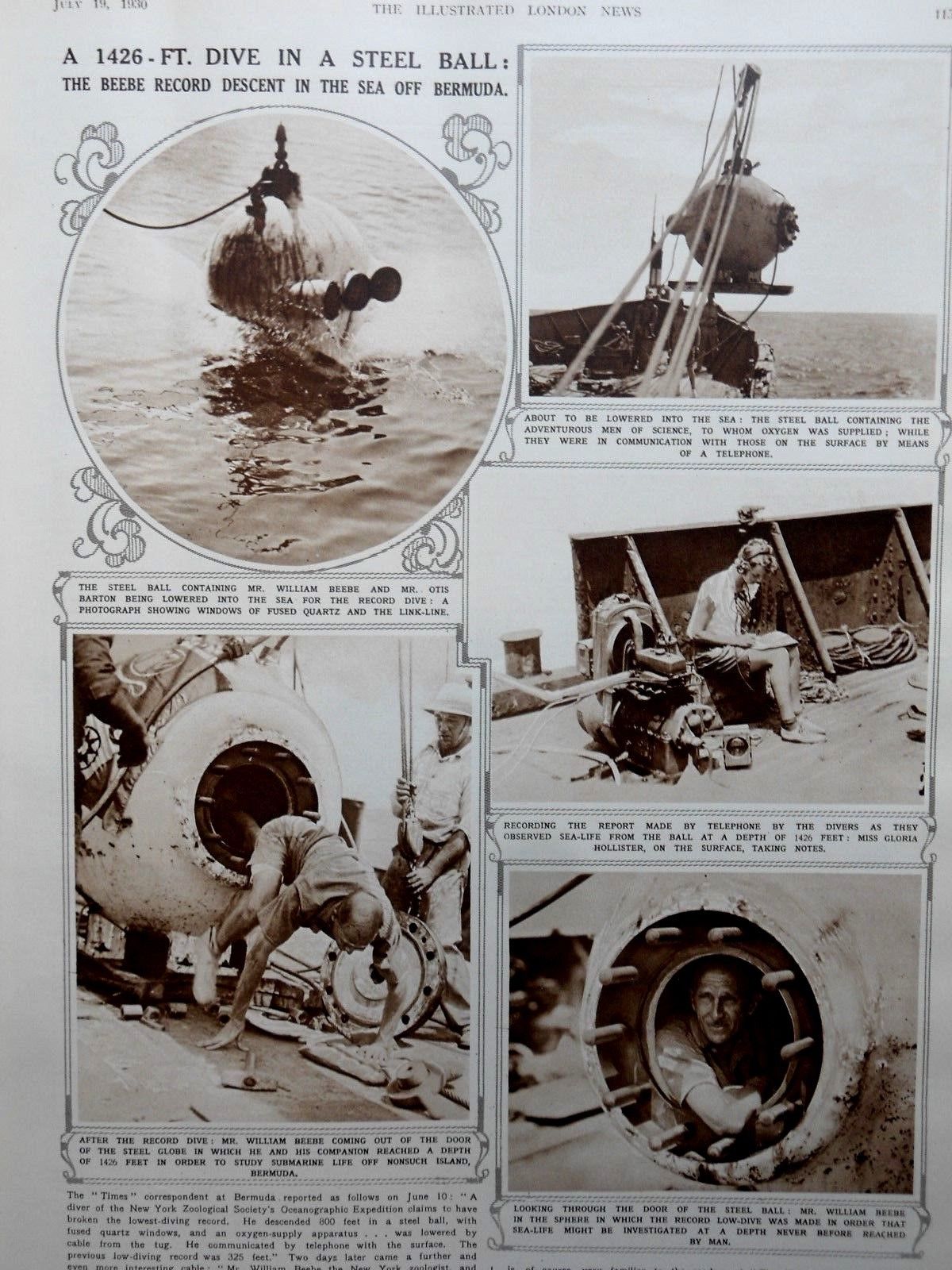 "After the record dive: Mr. William Beebe coming out of the door of the steel globe in which he and his companion reached a depth of 1426 feet in order to study submarine life off Nonsuch Island, Bermuda.
"Looking through the door of the steel ball: Mr. William Beebe in the sphere in which the record low-dive was made in order that sea-life might be investigated at a depth never before reached by man.
"The "Times" correspondent at Bermuda reported as follows on June 10: "A diver of the New York Zoological Society's Oceanographic Expedition claims to have broken the lowest-diving record. He descended 800 feet in a steel ball, with fused quartz windows, and an oxygen-supply apparatus…was lowered by cable from the tug.
"He communicated by telephone with the surface. The previous low-diving record was 325 feet."
Read More About