Eight universities and colleges from Atlantic Canada are visiting Bermuda next week in order to meet prospective students and to "support the strong relationships they've built on the island."
This visit builds on the success of previous visits and events that have attracted Bermudian students to institutions throughout the Atlantic Canada region.
"We're excited to return to Bermuda and help local students learn more about their post-secondary options in Atlantic Canada," said Katherine Cross, visit coordinator and assistant registrar at Dalhousie University.
"From actuarial science and business to social sciences, engineering and health-related programs, the eight institutions who will be visiting Bermuda on this trip are well positioned to help students thrive in their post-secondary studies and achieve their academic and career goals."
Students, parents and community members are invited to attend the Atlantic Canadian Education Fair on Monday, October 3 at Bermuda College from 6.30pm to 8.30pm, with some high schools on the island to also receive a visit from the post-secondary representatives while they are on the island.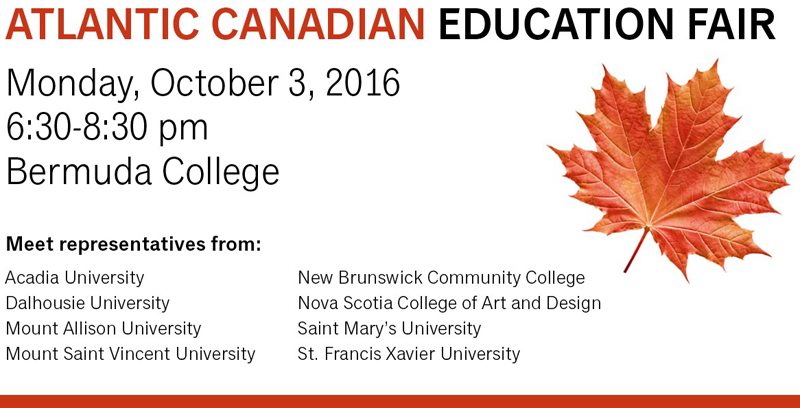 A spokesperson said, "Bermudian students are exceling while earning a world-class education at these institutions. Recent St. Francis Xavier University psychology graduate Shandae Simons loved her undergraduate experience in Canada and is now studying occupational therapy."
Ms. Simons said, "Some of my most cherished memories were made during my four years at St. FX. Looking back at my experience, I can truly say that although St. Francis Xavier is a university it feels more like one big family; one that I am proud to be a part of."
"Atlantic Canadian institutions offer a wide variety of programs to prepare students to enter graduate studies or begin their careers in Bermuda or abroad."
"After graduation, I returned to Bermuda, worked full time at Ernst and Young and started studying for the chartered accountant [CA] designation," said Caroline Berlo, a 2013 graduate of St. FX.
"I passed my CA exams in 2015 and was promoted to an audit senior position at EY. I'm proud to be part of one of the firms' biggest audit teams."
"The proximity to Bermuda also makes Atlantic Canada an appealing education destination."
Matt Coelho, a two-time graduate of Dalhousie University, said, "I chose Dal because I loved the program, it was close to Bermuda and it was sort of a familiar environment."

Read More About