The Bank of Butterfield's recent offering of common stock does not have any immediate impact on the company's current ratings and Outlook, according to Fitch Ratings.
A statement from the ratings agency said, "On Sept. 16, 2016, BNTB completed a sale of its common shares on the New York Stock Exchange resulting in estimated net proceeds of approximately $127 million.
"BNTB plans to use the net proceeds for general corporate purposes including the redemption of the company's 8% preferred stock.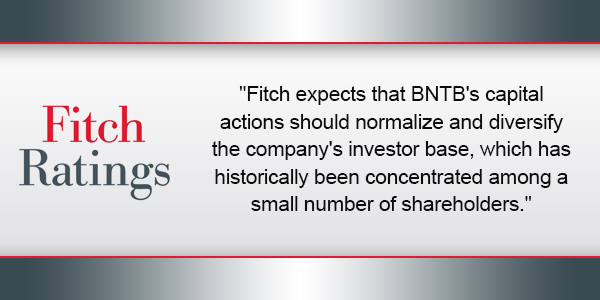 "These actions will increase the relative size of the common equity Tier 1 component of BNTB's capital, all else equal. Issued to investors in 2009, the company's preferred stock is unconditionally guaranteed by the Government of Bermuda.
"The guarantee was provided to facilitate an infusion of much needed liquidity into BNTB after the company suffered investment and loan losses during the financial crisis.
"Fitch expects that BNTB's capital actions should normalize and diversify the company's investor base, which has historically been concentrated among a small number of shareholders.
"The offering provides U.S. secondary market liquidity for BNTB's largest shareholder, The Carlyle Group, a private equity firm. Carlyle owns approximately 23% of BNTB's common shares and is expected to hold approximately 14% post-offering.
"The common stock offering and planned preferred stock redemption incorporate Fitch's expectation that Butterfield's tangible common equity position as measured by its TCE/TA ratio should remain above 5%.
"In May 2016, Fitch affirmed BNTB's viability rating [VR] at 'bbb-' and also downgraded BNTB's support-driven Long-Term Issuer Default Rating [IDR] to 'BBB' from 'A-'. BNTB's VR reflects Fitch's positive view on the company's strong market position, liquid balance sheet, and solid capital levels.
"The downgrade of the IDR reflects Fitch's view of weakened sovereign propensity to provide support given that the Government of Bermuda passed resolution legislation through Parliament in the first quarter. The Rating Outlook for BNTB's IDRs was Negative prior to the downgrade. The Rating Outlook is Stable. "
Read More About