The deadline for Art 4 Sail, a joint fundraising campaign between the Bermuda Sloop Foundation and Masterworks Museum of Bermuda Art, is today [September 16], according to an official spokesperson.
Applications poured in earlier this year from primary school classrooms, fine art university graduates, professional artists and even America's Cup teams with little to no artistic background – all in an effort to support two worthy non-profits on the island.
A total of 60 sloops are expected to be returned back by today, with the intention of being auctioned off at a fundraiser at Bermuda Underwater Exploration Institute on Friday, October 21.
One sloop created by the staff at Bouchee Bistro for the fundraiser; and another one created by the team at Masterworks: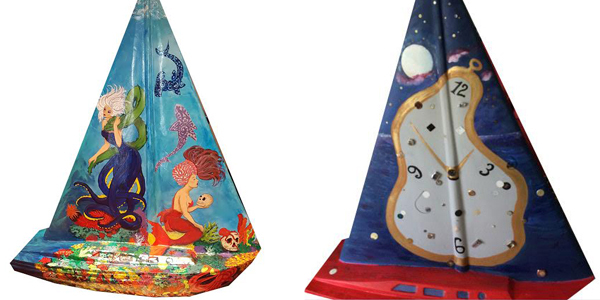 All proceeds raised will go to the organisations' educational programmes – which includes Masterworks' camps, afterschool programmes and workshops to boost art education, as well as the Sloop Foundation's sailing activities to promote character and educational development.
Tom Butterfield, the founder and creative director of Masterworks, said: "We're thrilled to see what these solo artists and teams have produced after months of hard work and much anticipation on our part.
"We were impressed with the creativity and innovation that was shown in the original submissions and are grateful for the support that has poured in so far.
"We're hoping we will attract even more attention for our auction in October from the corporate sector and wider community seeing it's collaboration between two important causes.
"Even though ours is a stationary charity and the Sloop Foundation is about movement, in both instances we promote and encourage learning.
"Our missions are to educate and make young people aware of the world around them – the major difference is one happens through an open atmosphere and another through a more closed environment at our museum. Still both are crucial to the overall development of our young people."
In addition to the sloop live auction, there will also be silent auction next month offering a selection of nautical themed prizes.
So far Mr. Butterfield has been impressed with the "mixed bag" of input and interpretations from the community.
"What I've seen coming back so far in these early days is pretty staggering," he said. "It's going to be a fun auction and people will leave knowing they have contributed to two organisations and helped in one case to keep the boat afloat and in our case the doors open."
Diana Martin, the CEO of Bermuda Sloop Foundation, said the organisation welcomed the opportunity to partner and collaborate with Masterworks for this special event.
"The idea was the brainchild of Tom Butterfield and we fully embraced the concept of the two charities working together to put the 'A' for Art in STEAM Education [Science, Technology, Engineering, ART, and Math]. We believe these are all essential components for a well-rounded education.
"Equally welcome for both charities is the opportunity to pool talent and resources in a fundraising event, when these amazing painted sloops will be auctioned off.
"We eagerly anticipate seeing all 60 of the painted sloops in gardens and public places throughout Bermuda after they are sold and hope all of Bermuda will be as excited as we are to visit BUEI in the week prior to the event to see these amazing creations and vote for their favourites in different categories."
The foundation has created its own entry, called 'Spirit Story Boat', which will be separately auctioned off at Bermuda Sloop Foundation's 10th Anniversary Spirited Celebration on October 7th.
"The project has been a labour of love over several months, involving 'spirited' students, staff, crew, crew trainees, board members and their wives, as well as volunteers," Ms. Martin said. "Although some pictures of our efforts have been released, we'll let the finished product be a surprise."

Read More About
Category: All, Entertainment