The Bermuda Dressage Group held their first competition of the season at the National Equestrian Centre on Vesey Street, this weekend. 29 entries led to a busier than usual competition, with the riders' ages ranging from 11 to 80 years old.
Harriet Richold, competing her horse Sight Unseen, was at the top end of the age spectrum. The duo, who often ride with the Bermuda Hunt Club, made their debut in the dressage arena for judge Sarah Ruberry, originally from the UK. Mrs. Richold and Sight Unseen scored two very respectable scores of 59.565% in Training Level Test 1 and 57.50% in Training Level Test 2.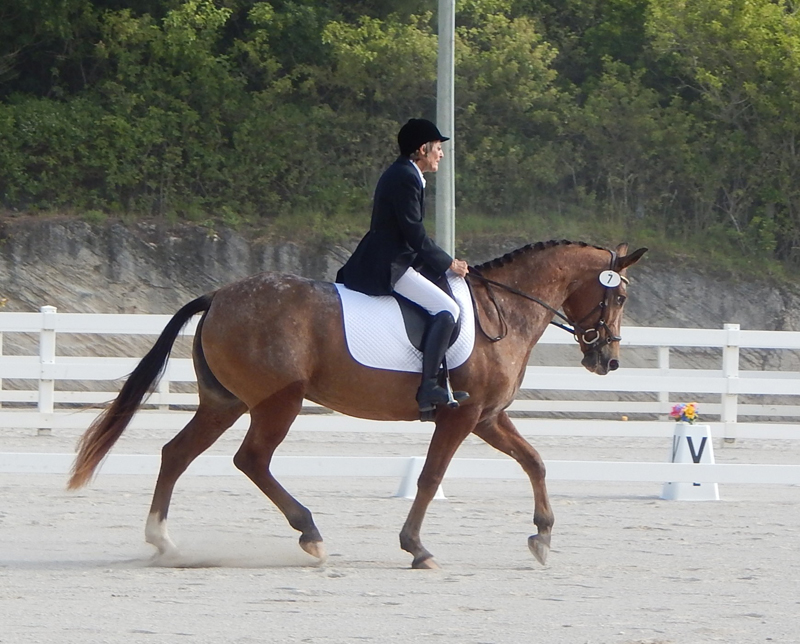 The highest score for the adults went to Angela Halloran-Smith riding Rebecca Bartoletti's Finnomenal AV, a Hanoverian Oldenburg cross with 68.281% in FEI Medium Level. The highest score for the juniors was 67.833% achieved by Casey Truran and his horse De Le Vega, an Oldenburg, in the FEI Elementary level.
Bermuda's riders now have one month to prepare themselves for the FEI World Dressage Challenge 2016, to be held at The National Equestrian Centre, Devonshire on the 12th November, where individual and country world rankings will be fought for against 52 other countries, all competing on their home turfs.
For those readers unfamiliar with dressage, the word directly translates from the French for "training".
Claire Suddath writing for Bloomberg news compared dressage to ballet saying "Ballet is beautiful but strenuous, and its dancers must execute precise movements with a level of grace that masks the athleticism required to perform them. Dressage is exactly like that, although not so bad that it turns your toes black and blue."

Read More About