Bermuda Heroes Weekend [BHW] will host its second annual launch, with a weekend of events including a costume preview for 2017 starting from January 6th – 8th 2017.
"Launch Weekend 2017 will kick off on Friday, January 6th with The Fete at the lower level of Pier 6. DJ's Barrie Hype and Ryan Sayeed will be returning to the Island and will join Mr. General out of the UK. They will be playing alongside local DJ's D'General, DJ Rusty G & DJ Burge. A special guest artist will also be performing," BHW said.
"On Saturday, January 7th at 11am, returning to the Lower Level of Pier 6, locals will have the opportunity to attend the first BHW Panel Discussion featuring both local and international entrepreneurs, artists, DJs, and costume designers. Come out and hear how you can benefit with BHW! This event is free and open to all sectors of the community.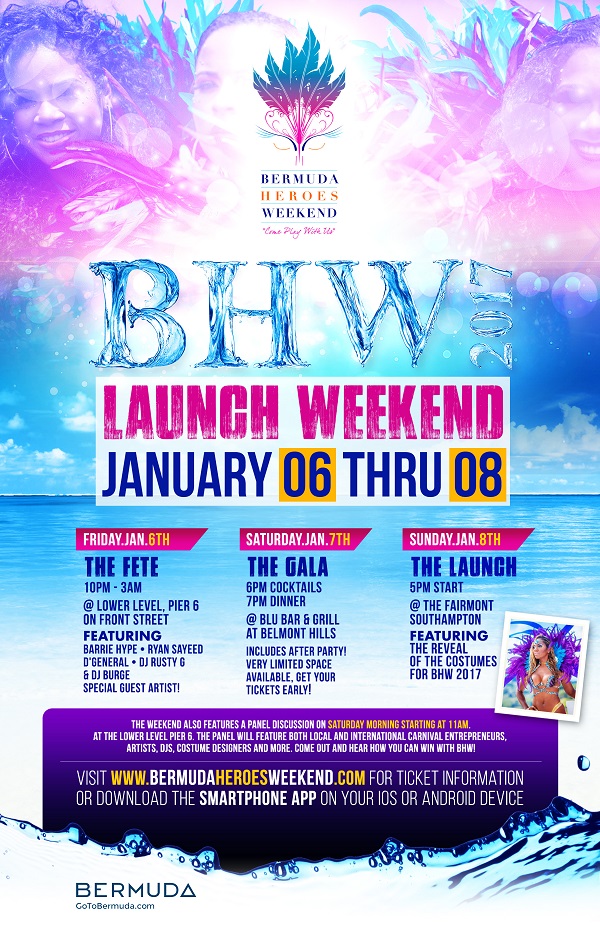 "The gala will take place on Saturday, January 7th at Blu Bar & Grill at the Belmont Hills Golf Course. The night will begin at 6pm with cocktails and a sit down dinner to start 7pm. Space is limited and persons are encouraged to get their tickets early!
"BHW Ltd would like to officially congratulate Nova Mas International who won the Bermuda Heroes Weekend 2016 Band of the Year Award.
"Jason Sukdeo President of BHW Ltd would like to send a 'Special congratulations to band leaders Seldon Wooldridge, Chesney Pearman and the entire Nova team for an outstanding performance during the parade and during the lead up to Bermuda Heroes Weekend 2016.'
"On Sunday, January 8th at the Fairmont Southampton Resort, attendees will see the presentation of costumes for each of the seven bands participating in Parade of Bands 2017.
"Guests will be given the opportunity to view the costumes that will be showcased by local models. Each band will also have a booth where guests can obtain additional information. Doors open at 4pm and the launch will start at 5:00pm. Patrons are encouraged to be on time.
Slideshow of the last BHW launch event:
-
"Bermuda Heroes Weekend is now entering into its third year and is one of the most talked about carnivals on the international circuit. A lot of planning and preparation goes into the entire weekend and we are thrilled to showcase what we have in store for 2017", says Jason Sukdeo. "
We are encouraging members of the public to attend the at least one of the events to learn more about the bands, see the costumes and educate themselves on how the can be involved in the growing of Bermuda's Carnival."
Tickets for the FETE on January 6th are $35. The black tie gala tickets are $135.00 per ticket and tickets for the launch party on January 8th are $35. Guests can buy a combo ticket for $175.00 which includes admission into the FETE, the gala and launch party.
Visit Bermudaheroesweekend.com for ticket information.

Read More About
Category: All, Entertainment, News