[Updated] The Grandeur of the Seas and Norwegian Breakaway cruise ships have cancelled their calls to Bermuda due to the weather forecast, with the Bermuda Weather Service saying that Tropical Storm Nicole is a "potential threat to Bermuda," and its closest point of approach to Bermuda within 72 hrs is forecast to be 86nm to the south-south-west at 6am on Thursday, October 13th.
Graphic courtesy of the BWS: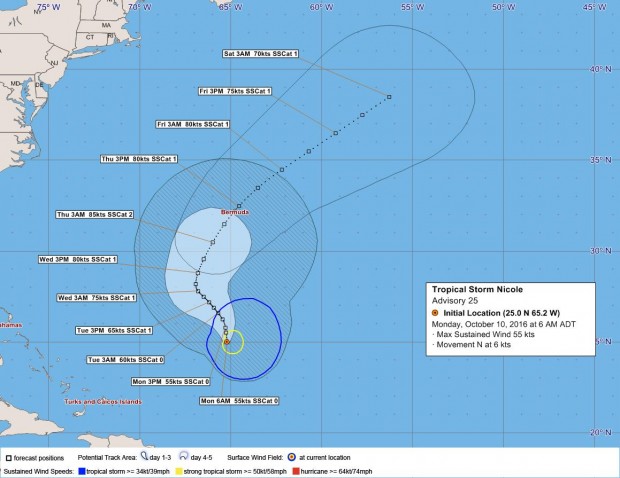 The BWS forecast says, "Tropical Storm Nicole remains a potential threat and is currently forecast to pass about 45nm to our southeast on Thursday.
"Expect periods of strong winds, showers and thunderstorms all week with tropical storm force winds and hurricane force gusts possible during Thursday. Swell from Tropical Storm Nicole will increase over the next few days, creating dangerous surf conditions and rip currents."
The U.S. National Hurricane Centre's latest forecast said, "Maximum sustained winds remain near 65 mph [100 km/h] with higher gusts. Little change in strength is expected today. Gradual strengthening is forecast to begin tonight and continue into Tuesday. Nicole is expected become a hurricane again by Tuesday."
Last night, the Government said, "Weather forecasts indicate that Nicole could intensify into a Category 1 hurricane over the next few days, and the Ministry of National Security reiterated that it continues to pay close attention to the storm's forecasted track."
In confirming the cancelled calls, the Bermuda Martime Operations Centre said, "MS Grandeur of the Seas [Oct 10-11] and MS Norwegian Breakaway [Oct 12-14] have cancelled calls to Bermuda due to forecasted weather."

Update 12.39pm: As of 12pm, the BWS says that Nicole is now a "threat" to Bermuda, with its its closest point of approach to Bermuda within 72 hrs forecast to be 25 nm of [or directly over] the Island, 11am on Thursday, October 13th.
Update 2.53pm: BMOC confirm that the AIDALuna has also cancelled her call to Bermuda,, due to be on Wednesday [Oct 12], due to the weather.

Read More About