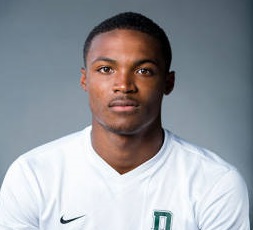 Marking his second goal of the season, Bermuda's Justin Donawa — who plays for Dartmouth men's soccer team — scored in the 71st minute to help Dartmouth to a 1 – 0 win over New Hampshire.
The school's match report said, "Justin Donawa scored in the 71st minute to propel the Dartmouth men's soccer team past New Hampshire, 1-0, at Burnham Field on Wednesday night.
"With the victory, the Big Green improve to 2-1-5 overall, while the Wildcats drop to 9-2-0.
"Dartmouth came into the contest looking to record its second victory at home, after the Big Green played to a draw with Princeton in the Ivy League opener last weekend. Each team did a solid job maintaining possession of the ball throughout the game as Dartmouth and UNH took 10 shots apiece through 90 minutes.
"Dartmouth was able to set the pace of the game early on, pinning the Wildcats back in their end of the field. About halfway through the first, UNH had a flurry of shots that were either blocked or turned aside by James Hickok, who finished the night with three saves.
"After a scoreless first half, the teams returned to field in search of the all-important first score. With 33 minutes to play Matt Greer had a solid look, but his shot sailed high. About 10 minutes, later Emmanuel Arteaga made a nice move and tried to cross the ball into the box, but nobody could get there in time.
"Donawa broke the stalemate with his second goal of the season when the Bermuda native received a pass from Matt Danilack and sprinted up toward the box, finishing with a hard shot that ended up in the lower left corner of the net.
"For the remaining 19 minutes, the Big Green did a solid job protecting their one-goal lead by not allowing UNH a decent scoring chance."

Read More About