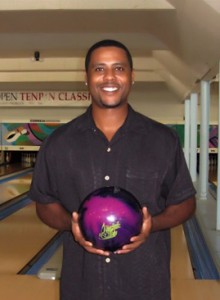 Rickai Binns recently achieved the greatest night of his bowling career when he rolled an 829 series in the TBI Men's Classic Bowling League on Thursday, November 3 at Warwick Lanes.
An 800 series requires a player to bowl a minimum of 266 or more in each of the three games, with Mr. Binns achieving results of 266, 276, and 287 to beat the 819 series record previously held by Kevin Swan.
Mr. Binns, a member of the Goslings Black Seal Rum team for two years, now tops the list of a small group of 800 series local bowlers playing in league or tournament play at Warwick Lanes.
Other members of that elite group include Levinc Samuels [815], David Maycock [813], Lamar Richardson [813] and Damien Matthews [811]. The TBI Men's Classic Bowling League is sanctioned by the United Stated Bowling Congress [USBC] and each 800 series bowler receives a "Lifetime Achievement Award", signified by a USBC 800 series ring.
Official photographs and profiles of the 800 Series bowlers decorate the walls of Warwick Lanes, available for public viewing during open hours.

Read More About