The United Kingdom's communications and public relations industry has shown recognition of Bermuda's response to being placed on an EU 'blacklist' of supposed tax havens in the summer of 2015.
"All four leading industry awards this year recognized the Government's campaign to remove Bermuda from the list and to contain and reverse any reputational damage done to its key stakeholders in the international governmental and business communities," the Government said.
"The awards were: The City & Financial PR Awards, the SABRE Awards, the Corporate and Financial Awards and the Corp Comms Awards.
Minister of Finance Bob Richards holds the Corporate and Financial Gold Award for Most Effective Crisis Communication, while flanked by Assistant Financial Secretary, Regulatory Unit, Pam Burrows and Financial Secretary Anthony Manders.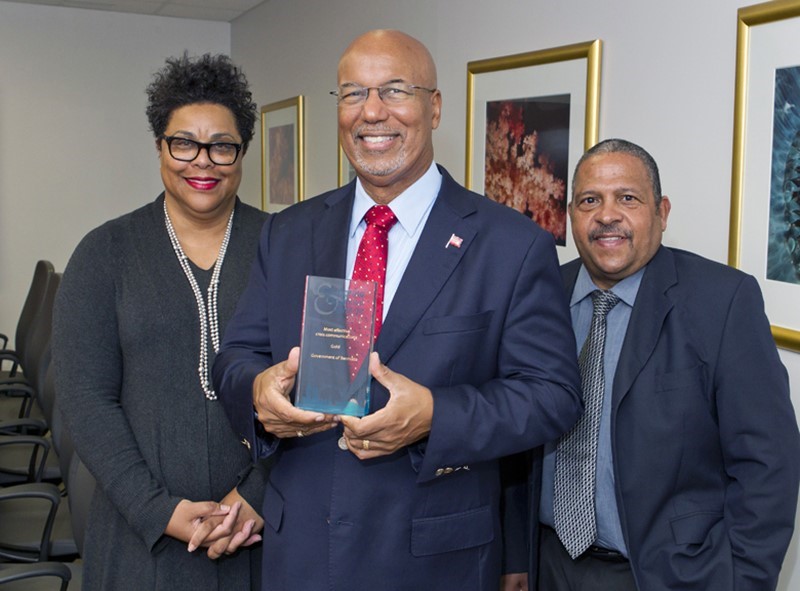 "Bermuda won the Corporate and Financial Gold Award for Most Effective Crisis Communication.
"Over a period of seven months from June 2015, the Government presented a carefully argued case at the highest levels of European and UK government, and in the international media, securing endorsement from Europe's most influential voices and retractions from countries that were said to have 'blacklisted' Bermuda.
"In October 2015, Bermuda was the first to notice the list had been surreptitiously removed and shared the news with its UK network, using the opportunity to actively promote Bermuda's credentials as a transparent, trans-Atlantic insurance centre, as opposed to a Caribbean tax haven."
Kimberley Durrant, Government of Bermuda UK Representative said, "It was essential to secure Bermuda's rapid removal from the list, which was potentially so threatening to our commercial and geo-political credibility."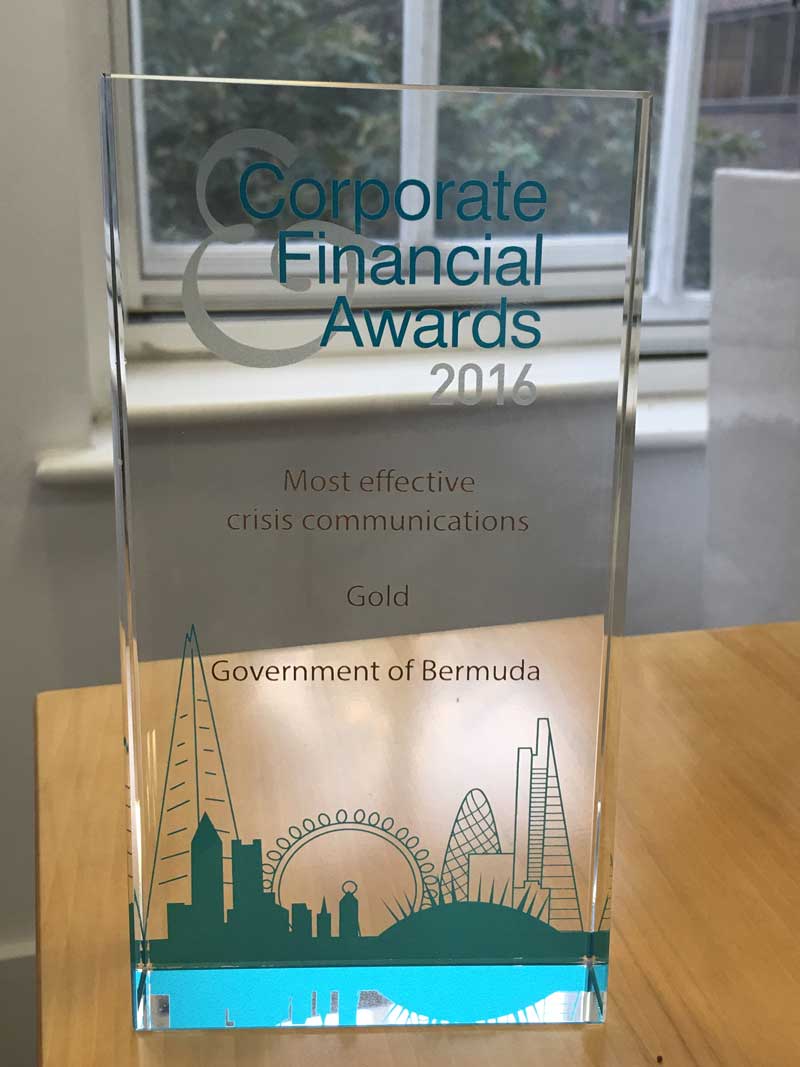 The Deputy Premier and Minister of Finance Bob Richards stated: "It was a team effort to set the record straight and protect Bermuda's good name.
"The team, of course includes not just Ms Durrant and the EU advisor to the Ministry of Finance, Alastair Sutton in London, but Bermudians at home who work diligently on behalf of the Government and the People of Bermuda.
"They are led by the Financial Secretary Anthony Manders and include Assistant Financial Secretary, Treaties, Wayne Brown and Assistant Financial Secretary, Regulatory Unit, Pam Burrows. So this award is really for them."
Read More About