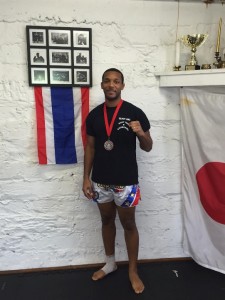 Muay Thai martial artist Deondre Morris is preparing for his first major appearance in an international full Muay Thai rules title fight, set to take place on Saturday, December 17, 2016.
Morris was invited by Destiny Fight Productions [based in Toronto, Canada] to fight for Destiny's Super Middleweight World Championship title against a currently unnamed opponent.
Just this past June, Morris competed in the Thai Boxing Association- Sanctioning Authority's World Championships in Des Moines, Iowa. He fought in the Class A division, earning a bronze medal.
"After seeing my performances in the TBASA competition, I received the invitation to fight for this title from Destiny," stated Morris.
"At first I wasn't sure, but it didn't take long for me to say yes. I realized what an honour it will be to represent Bermuda's growing Muay Thai community. I want to help the knowledge of the art grow here in Bermuda."
A member of Bermuda Karate Organization [BKO], Morris is the head coach and most experienced of the team with 12 fights. Gym owners Sensei Skipper and Kristina Ingham will be traveling to watch this historic occasion along with a few other supporters.
The show will be held at the prestigious Woodbine Racetrack & Casino; the last Destiny production attracted over 1,000 spectators and fans alike.
"I'm really excited to test my skills in front of this audience," Morris added. "I do believe I belong at this level, I haven't trained at this intensity for all of these years to not earn this.
"I have the opportunity to become Bermuda's first Class- A World Champion. I'll be representing Bermuda in an internationally recognized headlining bout. I'm determined to take full advantage."
BKO, a registered charity, is currently seeking donors to help with the expenses incurred by Morris' participation in this highly anticipated fight card.
If you wish to donate, please make checks payable to "Bermuda Karate Organization". If you prefer to donate online, please do so to Bermuda Karate Organization at Bank of Butterfield 2000 6060 085331 100. Any and all support is graciously appreciated.

Read More About