Bermuda's Emily Nagel, a member of Team BDA in next year's Red Bull Youth America's Cup, was part of Team Falcon for an adventure that started in ideal foiling conditions out of New York on November 5 but turned treacherous for some of the world's best sailors, who had to fight vicious winds and unexpected conditions over 66 hours and three nights during a 662-mile [1,065km] open ocean flight over water.
"We went from pushing the boat for performance…into survival mode," said Jimmy Spithill, the Oracle Team USA skipper who is a two-time America's Cup champion. "
I wanted to push myself mentally and physically further than I've ever gone before because the America's Cup next year will be tougher and harder-fought and more unpredictable than anything I have ever experienced.
"It was exactly what I needed, to really test myself under extreme conditions. It's only then, when the stress and fatigue levels climb so high and you need to make the right calls as a skipper, that you push yourself and your development. Ultimately, this will help me be a better sailor next year when the America's Cup is on the line."
Emily Nagel, photo by Matt Knighton
Led by Spithill, the Team Falcon crew also included Shannon Falcone of Antigua; Rome Kirby of Newport, Rhode Island, USA; Tommy Loughborough of Singapore; Cy Thompson of the Virgin Islands; and Bermuda's Emily Nagel.
"I couldn't quite believe I was on a boat with the Oracle Team USA guys and Shannon," said Nagel. "The learning curve of getting to sail with people with that kind of experience is just incredible. I learned so much about foiling and about offshore sailing. That, and just to experience it all, because I'd never really done any serious offshore sailing.
"The first day was glamour, with perfect foiling conditions that allowed us to foil into the night. The next two days brought a severe sea state. There were some nerve wracking moments, being able to trust my team mates was vital and allowed me to stay calm and focused."
Jimmy Spithill and Emily Nagel, photo by Matt Knighton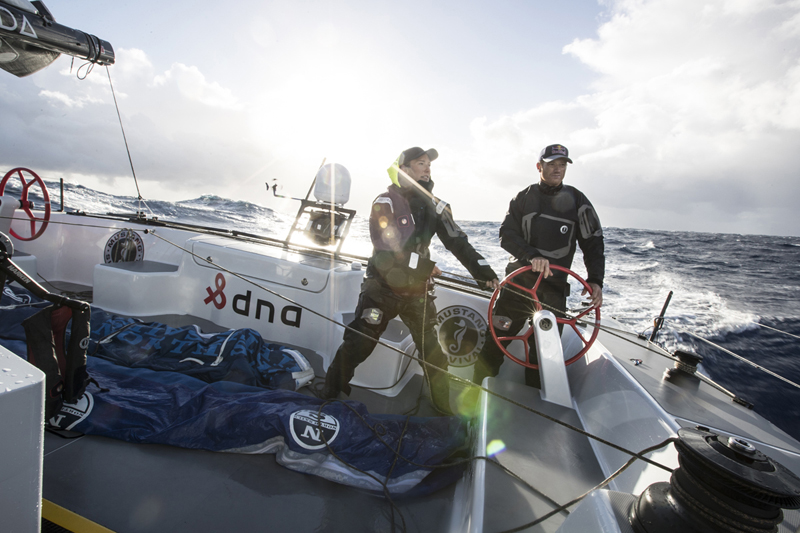 On the 46-foot "F4," Team Falcon faced a complex stretch of ocean that turned treacherous, affected by the Gulf Stream and always-changing Atlantic currents. The adverse weather, and unpredictability of navigation and communication in the open ocean, added to the challenge of managing the boat's finite energy supply.
"These were the biggest waves I've faced in a multi-hull and hopefully don't ever have to experience again," said Spithill. "Given how big the sea state was building and predicted to build, it was very concerning.
"Being responsible for the crew and boat, I knew we were going to be in for a long 48 hours. At night we didn't have a moon, so it was very difficult trying to get through this. Some of the waves were breaking, which made it very challenging and extremely dangerous, and we had a few close calls at night."
The result of an eight-month engineering collaboration, Team Falcon sailed on the first-ever 46-foot hydro-foiling catamaran that was specifically produced for the open ocean. The boat reaches extremely high speeds and lifts off the surface of the water, literally hovering a few feet over swells on innovative foils.
NY Statue of Liberty, photo by Matt Knighton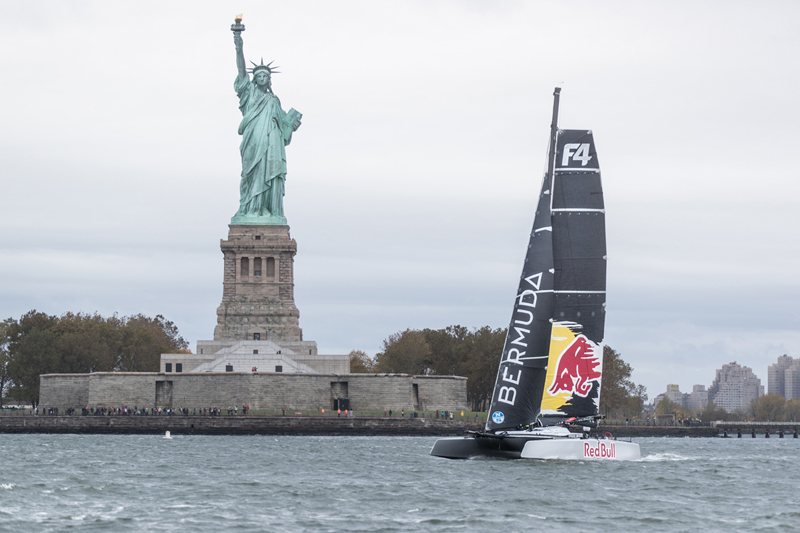 The mission had been postponed several times by a hurricane, gale force winds and other nasty conditions. When the weather window opened, the crew left from New York – which in 1870 became the first U.S. city to host the America's Cup – for Bermuda, where the 35th America's Cup will be held in the summer of 2017.
Born from the vision of Falcone, an open ocean adventurer and former teammate of Spithill and Rome Kirby on Oracle Team USA, the mission set out to prove that sustained foiling in the open ocean on a multi-hull is here for the avid sailor and adventure seeker – powered by wind, innovation and efficiency.
On departure, light winds quickly filled into a nearly ideal westerly flow of 15–18 knots [17-20mph]. "Foiling out of Manhattan all the way to the Gulf Stream was awesome," said Spithill. "It really proved this is the way forward in terms of performance and development. If the weather had stayed as forecast, we would have had a very fast trip to Bermuda."
Team Falcon arrives in Bermuda, photo by Rob Tringali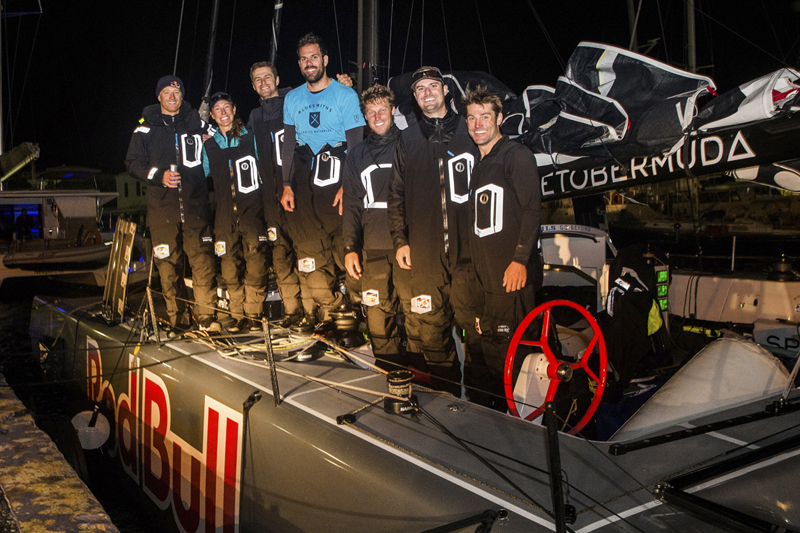 The team reached the Gulf Stream Saturday evening, but the headaches came Sunday morning when a new low pressure system formed rapidly. As the team departed the Gulf Stream, they reported 25-knot winds [29mph] and 2-meter waves [6.5ft], both well over projection.
The F4 eventually reported winds between 35 and 40 knots, with 6–8m [20–25ft] waves.[40 knots is equivalent to 46mph/74kmh.] Safety remained the top priority, so minimal sails were deployed and progress was exceptionally slow. As had been the case for 24 hours, there was nowhere to go but toward Bermuda. When the team arrived early morning on Tuesday, Nov. 8, conditions remained fierce.
"You always see the best team and people in the worst situation – this team was amazing," said Spithill.
"For Cy and Emily who had limited ocean sailing, I was impressed how they kept a cool head throughout the tough conditions. They have bright futures ahead of them. I also pushed myself in terms of leadership, what it takes to skipper in exceptionally challenging, unpredictable conditions, exactly the skills I'll need next year in The America's Cup."

Read More About