The Bermuda Tourism Authority [BTA], in cooperation with the Bermuda Chamber of Commerce, will host a free lunch and learn session for entrepreneurs looking to know more about the local beach economy. It will take place Monday, November 21, 2016 from 12:30pm to 1:30pm at the Chamber of Commerce.
Earlier this month, the BTA released part of its Beach Economy Vision which is designed to encourage enhanced amenities at the Island's public beaches, creating jobs in the process.
The plan was shared with the Ministry of Environment this past spring and officials there will decide what aspects of it should be implemented and when.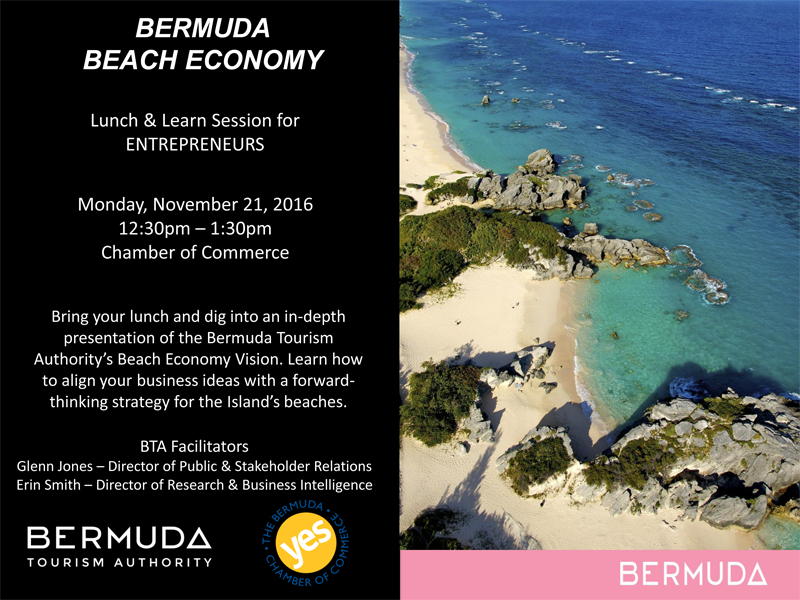 In the meantime, the BTA is using the lunch and learn session on Monday to educate entrepreneurs on the general vision so that they have time to align their ideas with the overall strategy by next spring.
The BTA's Director of Public and Stakeholder Relations Glenn Jones said: "Since making details of the Beach Economy Vision public, we've had a steady clip of phone calls and emails from people who want to learn more. We partnered with the Chamber of Commerce to put on a one-hour session that should give entrepreneurs the information they're hungry for."
Anyone interested in Monday's free session must pre-register online before 5:00pm, Friday, November 18, 2016. Space is available on a first come, first serve basis.
About a year ago, the BTA formed an internal working group to consider enhancements to Bermuda's beach economy. They were tasked with three primary objectives:
create beach economy jobs
increase visitor spending on public beaches
improve the beach experience for visitors and locals
In addition to the economic opportunities around amenities and experiences, the BTA's work focuses on beach cleanliness, facilities maintenance and ancillary job opportunities like the ones that may emerge in the transport sector.

Read More About