The Bermuda Health Council announced its new S.A.F.E. Care campaign to educate the public about proposed legislation that they said "protects patients from avoidable harms."
"The Patient Safety Laws, which aim to ensure health services are provided in suitable facilities, by trained health professionals, who use safe medical equipment to diagnose and treat health," the Council said.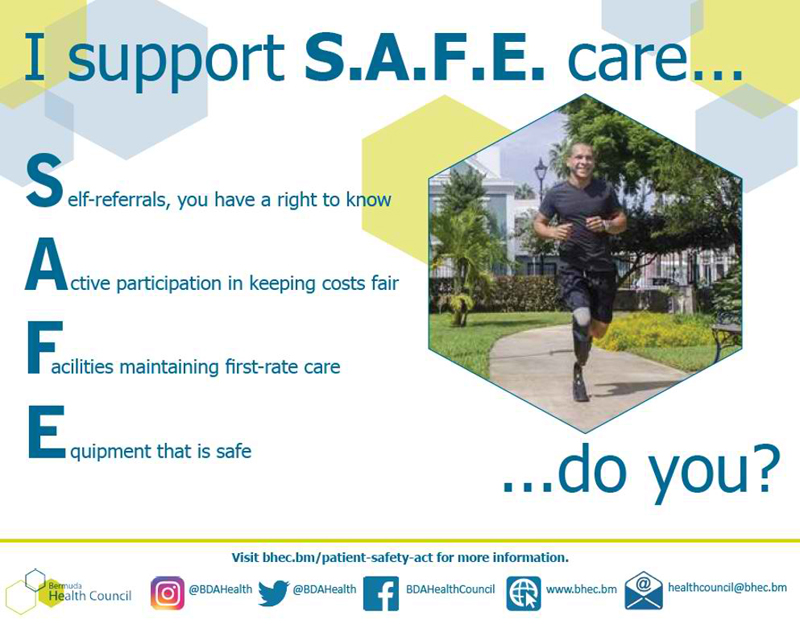 The acronym S.A.F.E. stands for the central messages of the campaign:
Self-referrals, you have a right to know
Active participation in keeping costs fair
Facilities maintaining first-rate care
Equipment that is safe
CEO, Tawanna Wedderburn said, "The proposed Patient Safety Laws demonstrate the degree to which we care about patients and want to promote safe environments that provide quality service at fair costs.
"The proposed laws reassure the public that health and safety is a real concern with serious penalties for their endangerment."
The Council said, "The campaign aims to enhance understanding of what S.A.F.E. healthcare is in Bermuda through the Health Council's Website, a panel discussion, social media, advertisements and media interviews."

Read More About
Category: All