Few things give Karen Simmons more joy than teaching young people about the hospitality industry.
The 46-year-old educator started her teaching career at CedarBridge Academy. One of the first programs she implemented was a mini restaurant known as Breeze Café – through which students learned to cook soups, quiches and other light menu items, serve guests and make reservations.
"The students ran the café themselves," Mrs Simmons said. "They created the menu and picked someone to be the hostess and take reservations, so if guests wanted to come they had to call the classroom and reserve their seats. The overall concept was to allow young people to move from just learning about hospitality to where they could actually execute and experience it."
The programme only lasted a year – but since then she's found other exciting ways to introduce young people to the sector.
Four years ago, Mrs Simmons, now a Family Studies Teacher at Whitney Institute, was invited to sit on the Bermuda Hospitality Institute [BHI] board to help with their various education programmes. Then in 2014, when BHI launched its summer camp, she was asked to supervise that as well.
"It's a lot of fun because we're able to expose young people to all areas of the hospitality industry," she said. "They learn what hospitality and tourism is and how it goes beyond just the front desk and kitchen.
"They go on field trips to different lodging establishments, experience food and dining options, explore the inside of hotels like the Hamilton Princess, have afternoon tea and visit sights from East to West.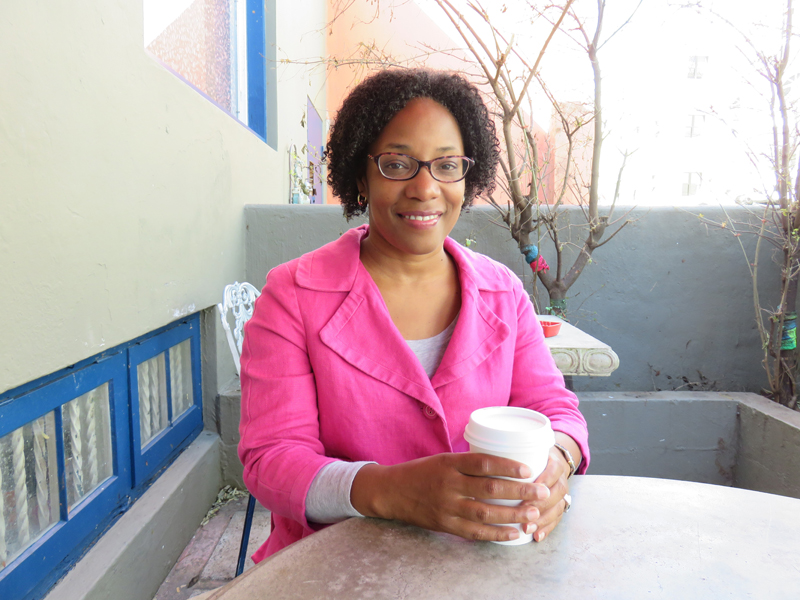 "It's a really exciting camp. They do a handful of different leisure activities and learn to be mini ambassadors for Bermuda. If anyone asks them a question they can say 'Here's what we can do in St. George's, where we can stay and what we can eat'."
Last year the premise behind the camp shifted a little bit. BHI unrolled their new Junior Chef Culinary Camp, which focused on exposing young people age 10 to 15 to the culinary arts specifically. It proved to be right up Mrs Simmons' alley.
Before deciding to become a teacher, Mrs Simmons actually had her heart set on cooking professionally. Her uncle was a chef instructor at Bermuda College and she liked the idea of creating food that people could enjoy.
"If you asked me as a five-year-old what I wanted to be, I'm pretty sure I would have said I wanted to be a chef," she said. "My dream was to open up a training restaurant where students from around Bermuda could go and train in food and beverage service and culinary arts.
"They had something similar at my high school at Warwick Secondary, where 15 and 16 year olds were essentially running their own restaurant, but that unfortunately stopped before I graduated.
"I went to college with that goal in mind, but life happened and after getting my culinary degree I was encouraged to go back to school and learn how to teach so I could help young people more effectively."
Cooking lessons for Junior Chef Culinary Camp were led by Bermuda College Instructor Chef Shawn Ming and assisted by Eron Woods, a culinary student at Johnson & Wales University.
The young people were both enthusiastic and engaged.
"These young people would watch all the Food Network TV shows and could tell you all the different types of ingredients in a recipe. They weren't just passive participants. They were active in it," she said.
"This summer we had ten students each of the three weeks the camp ran in July. One thing I learned from the experience is we don't give young people enough credit. I like to challenge them to do things in the kitchen and just let them do it. I'm usually always surprised by what they come up with."
Mrs Simmons admits her biggest goal is to instil pride in young people for the island.
"I want them to be proud of being Bermudian and understand that we can still be the best hospitality destination in the world," she said.
"I believe we can get back to where we used to be and want young people to recognise they have a part to play. They are our biggest asset in promoting Bermudian hospitality and growing our tourism industry."
While adults are more set in their views, children are eager to see things from a fresh lens or different perspective.
"In some cases they had never experienced activities before –like snorkelling or exploring the caves – and the only way we can tell them about it is if we let them experience it for themselves," she said. "That's when they have this lightbulb moment like 'Wow, we have this in Bermuda?' and they fall in love with the beauty all around them."
BHI offers educational programmes from primary age children up to college level and adults. For more information visit: www.bhi.bm.
Read More About
Category: All, Entertainment, News