Since the Certified Tourism Ambassador programme was first launched two years ago, Chris Garland has been one of its biggest supporters.
The general manager at Flanagan's has made it his mission to make sure as many staff as possible have been CTA certified.
"That was really important to us because we wanted to be able to tell tourists who come into our restaurants about what makes the island different and unique," he said.
"It's scary, but in talking to people it's evident the island's history isn't widely taught about in schools like it used to be. The CTA programme really helps those who don't understand the cultural makeup of Bermuda and the historical relevance of certain sights on the island, like the lighthouses – why they are there and when they were built."
Introduced by the Bermuda Tourism Authority and managed by the Bermuda Hospitality Institute, the CTA programme is an international certification that gives local hospitality workers the skills and knowledge to provide a world-class visitor experience.
Participants are educated on the island's heritage, culture and visitor offerings and have to meet a basic industry standard in order to keep their title as Certified Tourism Ambassador.
Mr Garland has found it particularly useful for expat workers coming in from overseas.
"It's nice for guest workers to be able to speak properly about Bermuda," he said. "Right now we have about five expats working at our restaurants.
"They weren't raised here so they're used to a different culture and environment – that's why I felt it was a very strong tool to at least give them the proper information so they could have authentic conversations about Bermuda without having to wing it.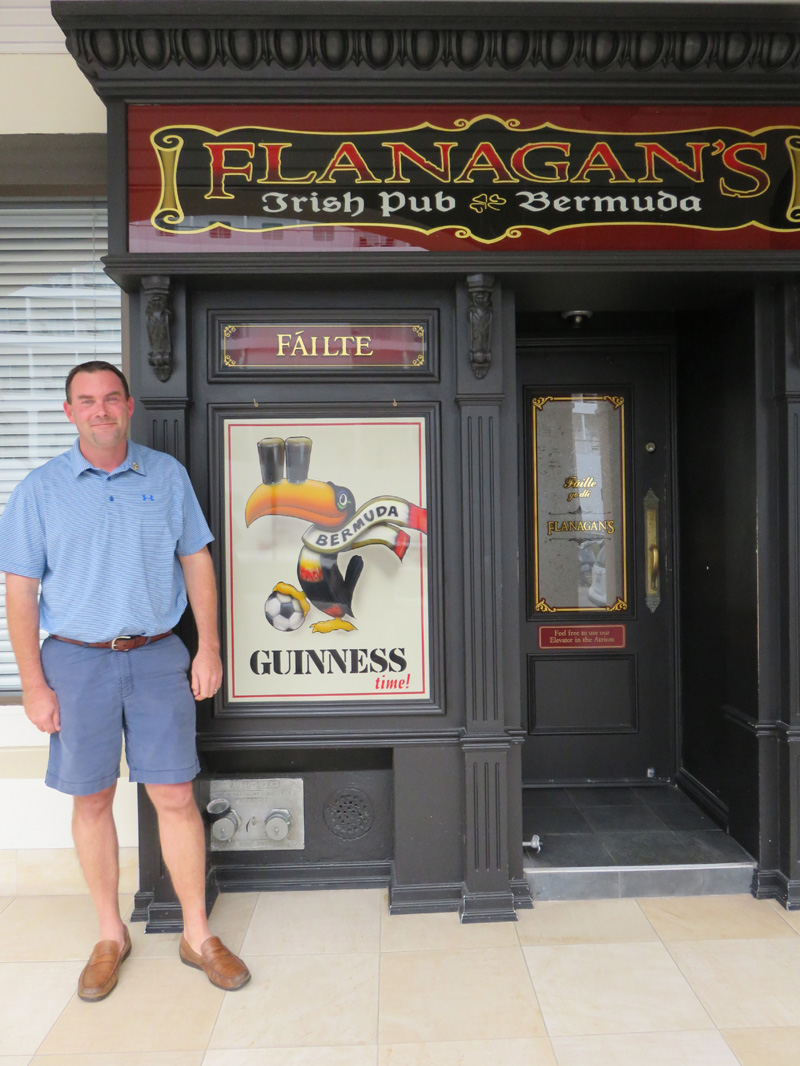 "Right now, a total of 17 staff are CTA certified and the first group are just about to renew their certification as it's been about two years. We are big supporters of it."
He agrees with the BHI's quest to encourage more young Bermudians to consider work in the hospitality sector, but believes the desire has to be the young person's part to find success in the field.
"We need more Bermudians in the hospitality industry with the mindset of making it a career and not just a hustle or a job," he explained. "Most people say they want to be in it, but they don't understand the dedication, commitment and sacrifice it takes.
"You have to give up your evenings and weekends and work on Easter Sunday, May 24, one or two days of Cup Match etc. The things your friends are going to do you have to sacrifice and say 'This is how I make my money and live. This is my career'."
Mr Garland made that decision when he was 13 years old. His first job was at a local tennis shop, before a door opened for him to work on the golf course at Southampton Princess.
"It was a good fit because I was a golf nut. Golf was my life as a kid," he said.
"I excelled in the service industry because of my personality and the relationships I built with people and I knew from a young age hospitality was for me. I went to college on a golf scholarship and got a degree in business and marketing.
"I also won a couple of National Championships before coming back to the island and working for Mid Ocean Golf Club as an assistant golf pro, running their club and assisting clients."
It was actually one summer a few years earlier when he was 18 that he found a part time job working at Flanagan's.
While on the greens he played a 9-hole round of golf with Flanagan's then bar manager Dion Mills. Fate intervened and Mr Garland was offered a job as a bar porter to make some extra cash for college.
He said: "After the game Dion offered to buy me a drink and pulled out a big wad of cash. I asked 'What's that from?' He told me he was a bar manager and owner at Flanagan's and we talked about it.
"By the end of that conversation he offered me to the opportunity to be a bar porter. I came in, had fun, washed a bunch of glasses and learned about the industry and when I went home for the night I made over $200, mostly in tips. I couldn't believe it."
He was hooked – and never lost contact with Mr Mills and Barry DeCouto of Flanagan's. In 2006, when the pub was put up for sale, the three men decided to buy it.
"That's when I decided to make a big career swap and jump full steam ahead in the hospitality industry," Mr Garland said.
The biggest lesson he's learnt is the value of team work. No matter how hard the management team work, if the staff aren't equally as invested in what they do their success will be limited.
"All the ideas and concepts we want to introduce and training methods to develop young people they just can't work without our staff putting in 100 percent," he said.
"With our staff's help we have developed Flanagan's from a pub and young person's hang out to a family restaurant and Bermuda's #1 sports bar. A few years ago we also bought the old Kathy's restaurant and turned it into the Snub.
"We've also been committed to developing young people – and have worked with BHI to employ two young Bermudians. One came through the Career Pathways programme and is hoping to take part in the Rising Chef competition."
Renewals for CTA programme, $30, are due by December 31st. For more information visit www.bhi.bm.

Read More About
Category: All, Business, Entertainment, News