St. George's Colts and PHC Zebras walked away with wins in this Shield & Friendship Semi-Final football action.
St. George's Colts 3 St. David's 2
The St. George's Colts came from behind to defeat east end rivals St. David's 3-2.
James Pace gave St. David's the lead with a blast from the edge of the box. St George's equalised through a Jarazhino Bassett goal, St. David's went back in front just before the break when Dunte Albouy scored.
The second half saw the St. George's Colts get two goals from Donovan Thompson in the space of five minutes as the advance to meet BAA in the Final. Thompson first slipped between an advancing St. David's goalkeeper Mikkail Crockwell and a defender before slotting the ball into an empty net, and then he rose highest to meet a corner at the back post to squeeze the ball into the back of the net.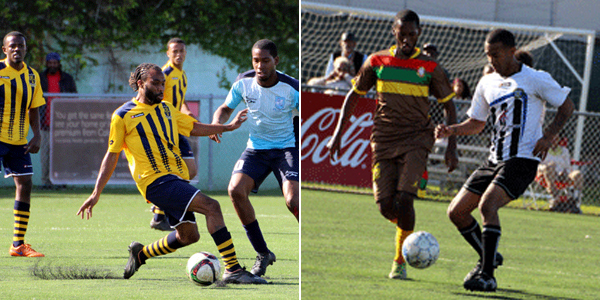 PHC Zebras 3 Dandy Town Hornets 1
The PHC Zebras advanced to Friendship Final with this 3 – 1 win over the Dandy Town Hornets, setting up a repeat of the Dudley Eve Final against the Devonshire Cougars.
Cecoy Robinson gave the PHC Zebras the lead in the 44th minute when he converted from the penalty spot. The PHC Zebras took that 1 – 0 lead into the break.
Marco Warren doubled the PHC Zebras lead when he scored in the 53rd minute, before Idrees Sharrieff made it 3 – 0 with a strike in the 63rd minute, one minute later the Dandy Town Hornets pulled a goal back when Damon Ming converted from the penalty spot.
Neither team was able the find the back of the net for the remainder of the game handing the PHC Zebras a spot in the Final

Read More About