A new state-of-the-art network is being installed in the first neighbourhoods in Bermuda as part of a multi-million dollar roll out of super-fast internet by One Communications, the company said today.
The newly branded company announced last month that it was going to invest more than $20m in a series of new initiatives, including a significant improvement to residential internet and TV services.
One Communications CEO Frank Amaral said: "We made a public commitment to making this investment and we are following through on that promise.
Left to right: Kevin DeCouto of Bermuda Blue Printing, Azeem Khan One Communications VP Network Planning, Brian Lonergan One Communications Marketing Director, and Andre Dill One Communications Construction Linesman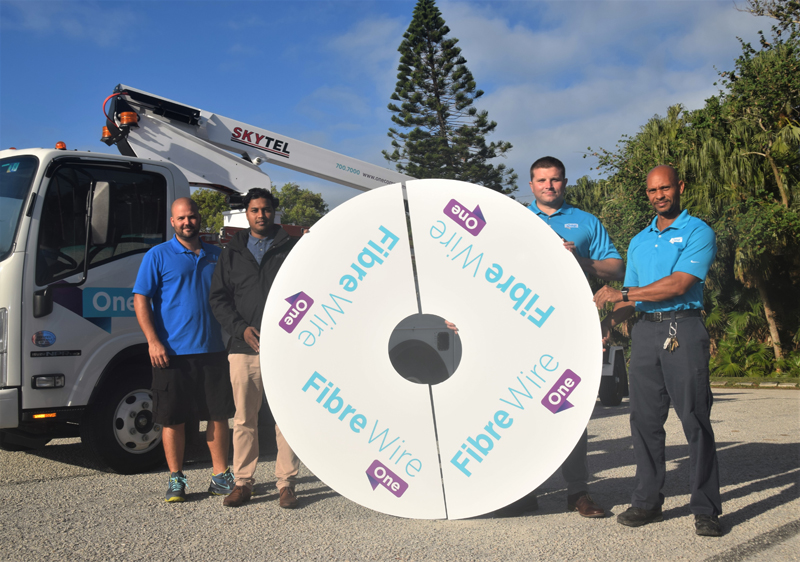 "Our newly laid fibre network, branded Fibre Wire, is the first of its kind in Bermuda. The infrastructure will vastly improve internet service, providing more bandwidth as well as a significant increase in speeds," he added.
One is also continuing with the roll-out of its 4G LTE mobile coverage to the rest of the Island, giving customers much faster data speeds.
Mr. Amaral added: "This is a very exciting time for One Communications and for our customers as we usher in a new era of superfast home internet and smartphone speeds.
"We know our customers want improved network service. The work we are doing aims to address this. We have listened to what our customers have been saying and are working hard to make improvements."
"Recently, One Communications added 24/7 Customer Care service along with the addition of auto debit as a payment option, to support cable customers," the company added. "Work on the fibre optic network is taking place across the Island, starting in Hamilton."
The company said they aims to ensure people are informed where work is going to happen through a series of posts in the newspaper, emails, and social media.

Read More About
Category: All, Business, News, technology