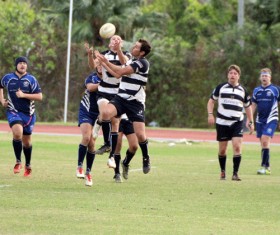 The island recently saw BFRU action in both the men's and women's leagues, with a number of matches played.
In Women's 1st Team League, the Renegades and Police played to a 2 – 2 draw; the Renegades got tries from Melissa Franklin and Laura Mulligan, while the Police got tries from Jo Murray and Mika Tomita.
The Teachers defeated the Mariners 3 – 1 in the second game; the Teachers got tries from Lauren Rothwell, Emily Sinclair and a penalty try, while the lone Mariners try was scored by Lysmeiri Herrera.
In Women's 2nd Team League, the Police and Renegades also played to a draw at 1 – 1; the Police try was by Alejandra Castano, while the Renegades try was from Nicola Bernard.
A combined Mariners/Teachers team defeated the Police 1 – 0 with a try by Herrera. That same combined team of Mariners/Teachers defeated the Renegades 1 – 0 with a try from Tamacia Lynch.
In the Men's 1st XV League, the Mariners put together a solid game to defeat the Teachers 18 – 17; the Mariners got tries from Simon Bergl and Kellen Williams, with Rory Dublin kicking one conversion and two penalties, while the Teachers got tries from Corey Boyce, Tyler Kendal and Antonio Perinchief, with Conor MacGowan kicking one conversion.
The Renegades ran out 45 – 3 winners over Police; Renegades got two tries from Jahan Cedanio, to go along with a single try from Jamie Baum, John Quigley, Tom Healy and Conor McGlynn, while Brian Archibald kicked six conversions and one penalty. Tommy Edwards kicked one penalty for the Police.

Read More About